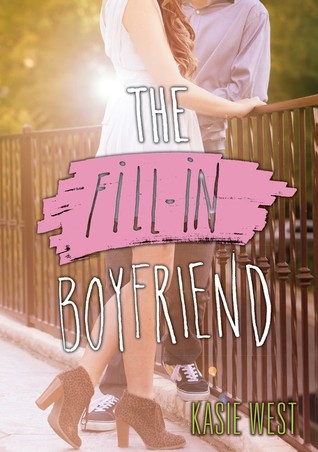 The Fill-In Boyfriend
By Kasie West
Published May 5th, 2015 by HarperTeen
344 pages
4 stars - The perfect summer read!
Summary from Goodreads.com:
When Gia Montgomery's boyfriend, Bradley, dumps her in the parking lot of her high school prom, she has to think fast. After all, she'd been telling her friends about him for months now. This was supposed to be the night she proved he existed. So when she sees a cute guy waiting to pick up his sister, she enlists his help. The task is simple: be her fill-in boyfriend—two hours, zero commitment, a few white lies. After that, she can win back the real Bradley.

The problem is that days after prom, it's not the real Bradley she's thinking about, but the stand-in. The one whose name she doesn't even know. But tracking him down doesn't mean they're done faking a relationship. Gia owes him a favor and his sister intends to see that he collects: his ex-girlfriend's graduation party—three hours, zero commitment, a few white lies.

Just when Gia begins to wonder if she could turn her fake boyfriend into a real one, Bradley comes waltzing back into her life, exposing her lie, and threatening to destroy her friendships and her new-found relationship.
Review:
It's a few minutes till midnight and I am typing up a review.
The book responsible for this late night review? The Fill-In Boyfriend by Kasie West. There is just something about all of Kasie West's books, at least in my opinion, that just get to me. I feel like they totally understand me or at least Kasie does. This book, like Kasie West's other books, is one that is able to make you feel lighter after a long and tiring day or week.
The characters are pretty relate-able and the love interests are always interest worthy (again, at least in my opinion). I guess what I'm trying to say is that I really, really enjoyed this book. It was the perfect read for me right now. In fact, I don't think there is ever a time where I won't be in the mood for something Kasie West has written. I devoured this book in just about two sittings!
But what you really want to know is why I enjoyed this one, right? Let me tell you. Gia is our main character and at first glance I wasn't quite sure I would enjoy her character. She was the popular girl who wanted to have it all together for fear that her friends might not stick with her if she didn't. But that was just the first few chapters really. After the prom night, Gia really starts to evaluate her life and this is when we start to see her grow. I loved watching Gia learn more about herself and open her eyes to the people she surrounded herself with. She was also able to learn more about others and genuinely care about them. It was all just pretty relate-able because even if you aren't popular, sometimes you just don't take the time to get to know others who are different than you. And I know that some people are going to be super annoyed by Gia and her personality/attitude in the beginning. Like I said, I kind of was too but she doesn't just stay that way. Growth is my favorite thing in a character and I saw it here. :)
Gia's new friends were totally awesome though. Bec and Fill-In Bradley (I won't say his name because it's all part of the fun to find out with Gia) were just so supportive of Gia. They were understanding and they encouraged her to be her and to really look at who and how she had been. Plus they had some issues of their own and it was great to see them all work them out together.
The romance was just right and I really enjoyed how it started as a friendship and progressed to more. It was a pretty great buildup. ;) Plus it kept me smiling to myself almost all the way through.
Overall, The Fill-In Boyfriend was the perfect summer read for me! It was just what I needed to make me feel lighter. This book mainly centers on Gia learning more about herself and growing into who she is. That being said, it isn't all that exciting at times but it is definitely interesting and emotional. It's not heavy but it makes you pause and think a bit. :)
I definitely recommend this one if you haven't read it yet! And while your at it, take a look at Kasie West's other books as well!
Vanessa