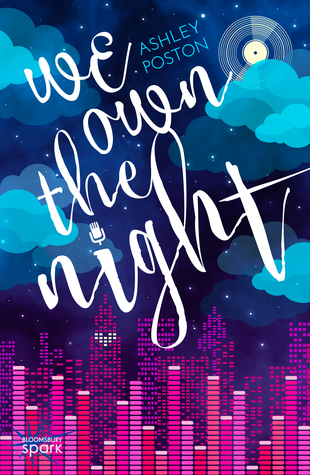 We Own the Night (Radio Hearts #2)
By Ashley Poston
Expected Publication is June 28th, 2016 by Bloomsbury Spark
250 pages
4 stars - Such a great read!
*An e-arc was provided by the publisher via Netgalley in exchange for an honest review. Thank you very much!*
Synopsis from Goodreads.com:
"Happy midnight, my fellow Niteowls..."
As a candy store employee by day, and mysterious deejay "Niteowl" by night, eighteen-year-old Ingrid North is stuck between rock 'n roll and a hard place. She can't wait to get out of her tiny hometown of Steadfast, Nebraska (population three hundred and forty-seven) to chase her dreams, but small-town troubles keep getting in the way. She can't abandon her grandmother with Alzheimer's, or her best friend Micah--who she may or may not be in love with.
But for one hour each Saturday, she escapes all of that. On air, she isn't timid, ugly-sweater-wearing Ingrid North. She's the funny and daring Niteowl. Every boy's manic pixie dream girl. Fearless. And there is one caller in particular-- Dark and Brooding--whose raspy laugh and snarky humor is just sexy enough to take her mind off Micah. Not that she's in love with Micah or anything. Cause she's not.
As her grandmother slips further away and Micah begins dating a Mean-Girls-worthy nightmare, Ingrid runs to the mysterious Dark and Brooding as a disembodied voice to lean on, only to fall down a rabbit hole of punk rockstars, tabloid headlines, and kisses that taste like bubble tea. But the man behind the voice could be surprising in all the right, and wrong, ways.
And she just might find that her real life begins when Niteowl goes off the air.
Review:
So I found this title over at Netgalley and, after reading the synopsis, knew that I had to have it! Thankfully I was approved for an e-arc of this book and I couldn't be more happier because of it. I also didn't know that this was the second book in what appears to be a companion series. Thankfully you don't have to read the first book before you read this one.
We Own the Night was such a relateable and endearing read. I just connected with Iggy so much and I enjoyed the fact that she loved music so much. If there is one thing I like just as much as a shelf full of books, it's music. Concerts and books are my favorite things in the world (not counting french fries ;)). From the beginning I could tell that Iggy was my kind of girl. She isn't really accepted by most of the kids in her small town and she isn't one to fit in. But she has a group of great friends, her loving grandmother, and her radio show.
Ahhh! I loved her talk show/radio show. I also loved the name Niteowl. I have always wanted to try to be a part of a radio show or talk show and I enjoyed reading about Iggy having her own. It was great to see her interacting with the callers and just giving great advice. The music she listened to was golden as well!
Then we have her friends. I absolutely loved L.D. and Billie, not so much Micah. The other two were so supportive of Iggy and stood up for her when the other kids would bully her around. They were unique in their own way and just great friends in general. Billie was the "golden boy" or the school jock but all around nice guy. L.D. was the spunky, supportive and musically talented best friend. She was her own person and was really brave. Micah was a generally good character but he was by no means my favorite. Oh, and Iggy's grandmother was so sweet!
I just really felt connected to this whole book and Iggy as well. She wanted more than what her small town could give her and she was so talented. One of my favorite parts of the book was the part where Iggy describes the feelings that being at a concert gave her. I could fully understand that description!
All in all, We Own the Night was such an awesome, humorous, and heartfelt read. I couldn't put it down and I loved connecting with Iggy and her friends! Definitely give this one a try! I'll be sure to pick up the first book soon.
Vanessa