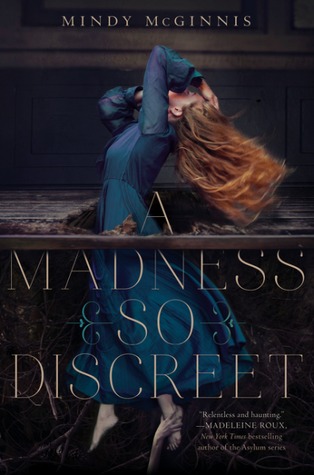 A Madness So Discreet
By Mindy McGinnis
Published October 6th, 2015 by Katherine Tegen Books
376 pages
4 stars - Awesome!
Summary from Goodreads.com:
Grace Mae knows madness.

She keeps it locked away, along with her voice, trapped deep inside a brilliant mind that cannot forget horrific family secrets. Those secrets, along with the bulge in her belly, land her in a Boston insane asylum.

When her voice returns in a burst of violence, Grace is banished to the dark cellars, where her mind is discovered by a visiting doctor who dabbles in the new study of criminal psychology. With her keen eyes and sharp memory, Grace will make the perfect assistant at crime scenes. Escaping from Boston to the safety of an ethical Ohio asylum, Grace finds friendship and hope, hints of a life she should have had. But gruesome nights bring Grace and the doctor into the circle of a killer who stalks young women. Grace, continuing to operate under the cloak of madness, must hunt a murderer while she confronts the demons in her own past.

In this beautifully twisted historical thriller, Mindy McGinnis, acclaimed author of Not a Drop to Drink and In a Handful of Dust, explores the fine line between sanity and insanity, good and evil—and the madness that exists in all of us.
Review:
I have to admit that I was a little disconcerted by the cover of this book. I had a feeling that it was going to be about something creepy and so I passed by it. But eventually I couldn't find anything else to read and this was available and the library so I picked it up. Turns out that it is actually more of a mystery/historical fiction/thriller type of novel which is just fine with me. :)
I actually really enjoyed reading A Madness So Discreet. I wasn't sure that I would because the reviews are kind of mixed. I really enjoyed the writing and the way all the characters interacted. The dialogue was witty and I was entertained the whole time. Plus, the criminal psychology topic was very interesting and reminded me of when I wanted to be a criminal profiler. ;)
Grace Mae definitely had to go through a lot. Watching her go through everything and reading about what she had to go through was kind of hard, but it was worth it because she grew from it. Grace didn't let all the horrible things that happened to her stop her from growing and getting past them.
I loved a few of the other characters as well because each one had their own little quirk. The girls that Grace befriended were such great friends and I enjoyed reading about their stories. Dr. Thornhollow is definitely kind of odd and I wasn't sure about it at first but he grew on me throughout the book. The conversations between him and Grace were always something to look forward to. Oh! And Falsteed was another odd character but I loved how he cared for Grace and was such a good friend.
Overall this was such an interesting and captivating read for me. It was something that I wasn't expecting at all. I just fell into the story and couldn't stop reading until I knew how it ended. I wanted to know the outcome of all the characters that I had been introduced to. The whole topic in itself was something that just called to me. If you are interested in criminal psychology or in asylums, then you would definitely enjoy this. Don't get me wrong, there were definitely a few things that I wasn't fond of but that didn't stop me from enjoying this read. Check it out soon!
Vanessa