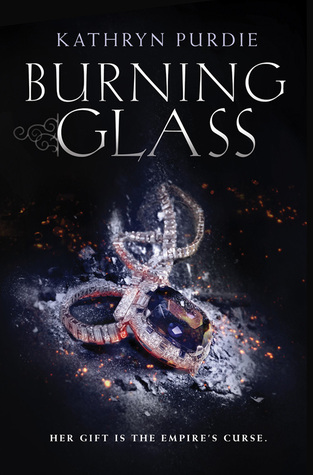 Burning Glass (Burning Glass #1)
By Kathryn Purdie
Published March 1st, 2016 by Katherine Tegen Books
512 pages
3.5 stars - Good start!
Synopsis from Goodreads.com:
Sonya was born with the rare gift to feel what those around her feel—both physically and emotionally—a gift she's kept hidden from the empire for seventeen long years. After a reckless mistake wipes out all the other girls with similar abilities, Sonya is hauled off to the palace and forced to serve the emperor as his sovereign Auraseer.

Tasked with sensing the intentions of would-be assassins, Sonya is under constant pressure to protect the emperor. But Sonya's power is untamed and reckless, and she can't always decipher when other people's impulses end and her own begin. In a palace full of warring emotions and looming darkness, Sonya fears that the biggest danger to the empire may be herself.

As she struggles to wrangle her abilities, Sonya seeks refuge in her tenuous alliances with the charming-yet-volatile Emperor Valko and his idealistic younger brother, Anton, the crown prince. But when threats of revolution pit the two brothers against each other, Sonya must choose which brother to trust—and which to betray.
Review:
The synopsis of this book had me pretty interested in reading it. The cover is awesome as well and so I was completely looking forward to giving this book a try. Unfortunately I didn't enjoy Burning Glass as much as I thought I would. The whole idea of the book was great but I feel like it fell flat.
Sonya has the ability to feel what those around her feel - emotionally and physically. Even though there are others like her, she is still different. She is an Auraseer and, after a horrible accident, soon becomes the sovereign Auraseer for the Emperor Valko. Once in the palace she must deal with the emotions of all those around her while figuring out those of Emperor Valko and Prince Anton.
I really liked the idea of Sonya being an empath of sorts. I thought it was interesting and I thought that there would be some even more intriguing twists. I was kind of disappointed. I kept thinking that Emperor Valko had some type of surprising secret that Sonya would figure out, but that wasn't the case.
Then there was the whole love triangle. I don't always have a problem with a love triangle but only if it's done right. This one just didn't feel right. I felt like we got more of one side of the triangle until the end where things felt kind of rushed.
Sonya, Anton, and Valko were pretty interesting but I felt like we didn't learn too much about them. This is supposed to be a trilogy so maybe we might learn even more about a few of the other characters. Either way I just felt like I couldn't fully connect with these characters. I liked Anton from the beginning but then I felt like I didn't get to know too much of him after.
Overall, it was an interesting read. I kept reading because I wanted to know what the outcome would be, but I wasn't fully devoted to the book. I had all these thoughts about what would happen and then the ending turned out to be nothing like what I thought.
Again, good story but maybe the next two will be better.
Vanessa