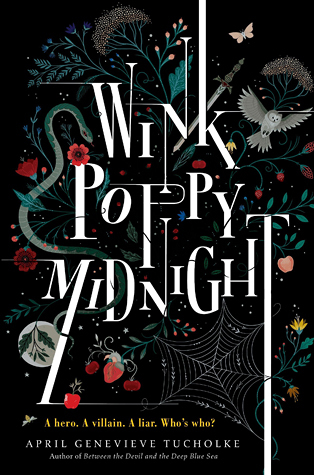 Wink

Poppy

Midnight
By April Genevieve Tucholke
Published March 22nd, 2016 by Dial Books
247 pages
4 stars - Intriguing Read!!
Summary from Goodreads.com:
Every story needs a hero.
Every story needs a villain.
Every story needs a secret.

Wink is the odd, mysterious neighbor girl, wild red hair and freckles. Poppy is the blond bully and the beautiful, manipulative high school queen bee. Midnight is the sweet, uncertain boy caught between them. Wink. Poppy. Midnight. Two girls. One boy. Three voices that burst onto the page in short, sharp, bewitching chapters, and spiral swiftly and inexorably toward something terrible or tricky or tremendous.

What really happened?
Someone knows.
Someone is lying.
Review:
I was immediately drawn to the cover of this book. I love the black background with the bright colors all over. I just knew that I had to have this book. The synopsis was just as intriguing and promised an unreliable narrator which I pretty much forgot as soon as I got my hands on this book.
Wink

Poppy Midnight was not what I was expecting at all. To be honest, I'm not really sure what I was expecting but it wasn't this. I really enjoyed this reading experience. I loved the way Tucholke drew me into the book with her writing style. I just felt like I was actually there with the characters. It was an almost dream like feeling.
Speaking of characters, each one was as intriguing as the other. Wink, Poppy, and Midnight each had their own stories and were apart of each others' stories. I enjoyed learning about why Poppy was the bully, why Wink was odd, and why Midnight was the boy stuck between them.
I definitely did not see that ending coming. I was fully caught up in the story and thought I knew who the villain was and who the hero was, but I was definitely wrong. I absolutely loved the surprise twist and figuring it out with Midnight. I won't say anymore because it's best, in my opinion, to not know too much going into the book.
Overall, this was a great read for me. I was intrigued from the beginning and I couldn't stop reading. I read in one day off and on. The writing style instantly transported me to the home of Wink, Poppy, and Midnight. And the storytelling aspect had me believing each character. Still not too sure how I feel about the ending but I can say that I will definitely remember it awhile from now. Definitely check this one out soon!!
Vanessa