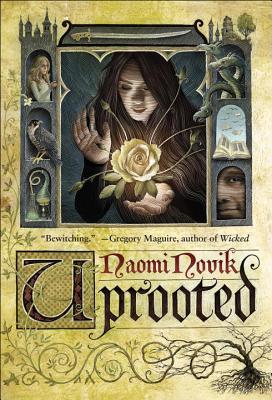 Uprooted
By Naomi Novik
Published May 19th, 2015 by Del Rey
438 pages
5 stars - Positively Enchanting!!
Summary from Goodreads.com:
"Our Dragon doesn't eat the girls he takes, no matter what stories they tell outside our valley. We hear them sometimes, from travelers passing through. They talk as though we were doing human sacrifice, and he were a real dragon. Of course that's not true: he may be a wizard and immortal, but he's still a man, and our fathers would band together and kill him if he wanted to eat one of us every ten years. He protects us against the Wood, and we're grateful, but not that grateful."

Agnieszka loves her valley home, her quiet village, the forests and the bright shining river. But the corrupted Wood stands on the border, full of malevolent power, and its shadow lies over her life.

Her people rely on the cold, driven wizard known only as the Dragon to keep its powers at bay. But he demands a terrible price for his help: one young woman handed over to serve him for ten years, a fate almost as terrible as falling to the Wood.

The next choosing is fast approaching, and Agnieszka is afraid. She knows—everyone knows—that the Dragon will take Kasia: beautiful, graceful, brave Kasia, all the things Agnieszka isn't, and her dearest friend in the world. And there is no way to save her.

But Agnieszka fears the wrong things. For when the Dragon comes, it is not Kasia he will choose.
Review:
I have been wanting to read Uprooted for such a long time! I had seen that so many of my favorite authors had blurbed it and I knew that I couldn't pass it up. I had wanted to wait until I could buy a hardcover of it because that cover is so nice, but I found it online at my library and quickly snatched it up.
I was drawn into this book from the very first page. There is just something so magical about the writing and the setting of this book. I felt like I was there with

Agnieszka and all the village people. I could picture the castle that held the fearful Dragon and I could picture the dreaded Wood that held creepy things. I could just picture it all and that really made me feel like I was at home in a way.
Then there was Agnieszka. I absolutely loved her character. She had been raised to believe that Kasia would be the one taken by the Dragon. She thought she was normal and not much of anything to even be thought of being taken. She knew she had flaws and fears and she was fine with that. There were times throughout the entire book that she was afraid and I really enjoyed that. A lot of the time, our heroines are fearless or they try really hard to be strong and to be tough. But Agnieszka was actually quite real and I could relate.
I don't want to say too much about the actual story because I don't want to give anything away. You should know hardly anything going into this book. :)

All I can say is that I really enjoyed reading this book. It was positively enchanting to read. It was magical and honest and full of so many good things, haha. The characters and their relationships were enjoyable to read and I loved how we got to know so many people. I loved how each of these characters grew and became different versions of themselves. I loved how this book had everything I like as well. There was magic, action, suspense, folklore, and romance. There was something for everyone and I would definitely recommend to anyone. Just read it and read it soon!
Vanessa