I have two mini reviews for you today! Both are April 2016 releases and the final installments to their series/books. Check them out today!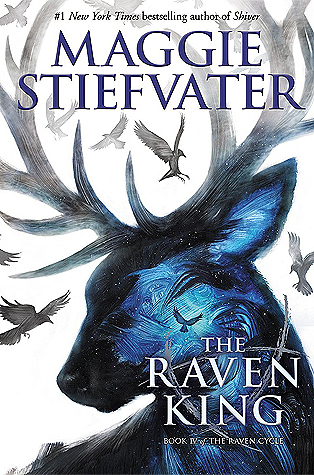 The Raven King (The Raven Cycle #4)
By Maggie Stiefvater
Published April 26th, 2016 by Scholastic Press
439 pages
5 stars - Enchanting Ending!
Synopsis from Goodreads.com:
Nothing living is safe. Nothing dead is to be trusted.

For years, Gansey has been on a quest to find a lost king. One by one, he's drawn others into this quest: Ronan, who steals from dreams; Adam, whose life is no longer his own; Noah, whose life is no longer a lie; and Blue, who loves Gansey… and is certain she is destined to kill him.

Now the endgame has begun. Dreams and nightmares are converging. Love and loss are inseparable. And the quest refuses to be pinned to a path.
Review:
The Raven King was all kinds of wonderful just like the previous three books. The writing was on point ;), the characters were just as lovely as ever, and the ending was definitely satisfying.
I don't want to say too much because I don't want to spoil anything, but I also just don't know what to say. I just don't feel like I can explain why I loved this book. Everything tied up pretty nicely but it was suspenseful and somewhat stressful to get to that point. There were stressful events that needed to happen to wrap up the story of these wonderful characters. But you'll have to read this book to figure out what those events are.
Blue, Gansey, Ronan, Adam, and Noah are all some of my favorite characters ever. I loved watching them grow throughout the books and especially throughout this book. I think they figured out a little bit more about themselves and what they want. I was also pretty happy with some of the other secondary characters that made appearances.
Overall, The Raven King was an enchanting and satisfying ending to an especially enchanting series. I have just loved being able to read these books and being able to lose myself in the world building and writing. I always felt like I was there with Blue and Gansey or Ronan and Adam. I'm sad to see these characters go but I thoroughly enjoyed the experience!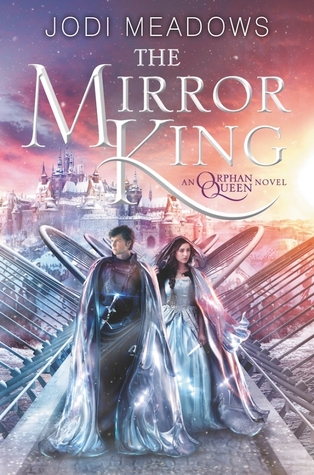 The Mirror King (The Orphan Queen #2)
By Jodi Meadows
Published April 5th, 2016 by Katherine Tegen Books
531 pages
4.5 stars - Beautiful cover = Beautiful book
Synopsis from Goodreads.com:
Wilhelmina has a hundred enemies.

HER FRIENDS HAVE TURNED. After her identity is revealed during the Inundation, Princess Wilhelmina is kept prisoner by the Indigo Kingdom, with the Ospreys lost somewhere in the devastated city. When the Ospreys' leader emerges at the worst possible moment, leaving Wil's biggest ally on his deathbed, she must become Black Knife to set things right.

HER MAGIC IS UNCONTROLLABLE. Wil's power is to animate, not to give true life, but in the wraithland she commanded a cloud of wraith mist to save herself, and later ordered it solid. Now there is a living boy made of wraith—destructive and deadly, and willing to do anything for her.

HER HEART IS TORN. Though she's ready for her crown, declaring herself queen means war. Caught between what she wants and what is right, Wilhelmina realizes the throne might not even matter. Everyone thought the wraith was years off, but already it's destroying Indigo Kingdom villages. If she can't protect both kingdoms, soon there won't be a land to rule.

In this stunning conclusion to THE ORPHAN QUEEN, Jodi Meadows follows Wilhelmina's breathtaking and brave journey from orphaned criminal on the streets to magic-wielding queen.
Review:
Ahh The Mirror King. Yet another ending to an enjoyable duology. I didn't exactly love love The Orphan Queen but that ending was such a cliff hanger and I had to read the next one. By the end of the first book I really wanted to see more of Wil and Black Knife/Tobiah. My wish was granted, somewhat, in The Mirror King.
Wow, this book just filled me with so many emotions. I cannot tell you how many times I laughed, cried, and screamed in frustration.
The Mirror King picks up right where the first book left off. We get right back into the action and tension from the ending scene. From then on so much happens left and right. Wil is put through so many tests and has to face so many difficult situations. I was just so frustrated for her and sometimes with her! And Tobiah as well.
But despite everything that happens, it is definitely all worth it for that ending! I don't want to spoil anything but that ending is just what I wanted. Kind of. Somewhat. It's hard to explain because there were quite a few sacrifices that had to be made in this book but there were also happy outcomes.
Overall, we learn more about the wraith and the kingdoms in general. We also are able to watch Wil grow and learn more about herself and her friends/enemies. We also get to see Tobiah do some growing of his own and that was great/hard as well.
This last book was such a great ending to this duology and I am so glad I was able to read it. Seriously, I can't stop thinking about that ending! Read it soon!!
Vanessa