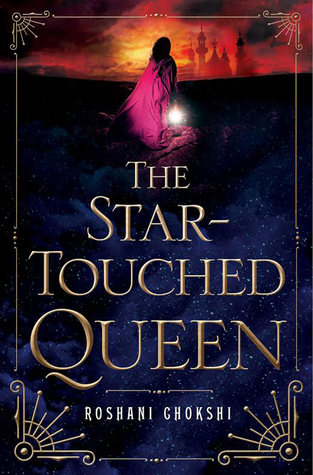 The Star-Touched Queen (The Star-Touched Queen #1)
By Roshani Chokshi
Published April 26th, 2016 by St. Martin's Griffin
342 pages
4 stars - An Amazing Debut!
Synopsis from Goodreads.com:
Fate and fortune. Power and passion. What does it take to be the queen of a kingdom when you're only seventeen?

Maya is cursed. With a horoscope that promises a marriage of death and destruction, she has earned only the scorn and fear of her father's kingdom. Content to follow more scholarly pursuits, her whole world is torn apart when her father, the Raja, arranges a wedding of political convenience to quell outside rebellions. Soon Maya becomes the queen of Akaran and wife of Amar. Neither roles are what she expected: As Akaran's queen, she finds her voice and power. As Amar's wife, she finds something else entirely: Compassion. Protection. Desire…

But Akaran has its own secrets—thousands of locked doors, gardens of glass, and a tree that bears memories instead of fruit. Soon, Maya suspects her life is in danger. Yet who, besides her husband, can she trust? With the fate of the human and Otherworldly realms hanging in the balance, Maya must unravel an ancient mystery that spans reincarnated lives to save those she loves the most…including herself.
Review:
Wow. Yet another rich and enchanting read. I was immediately drawn to The Star-Touched Queen by it's cover. It is such a gorgeous cover! This is actually a time when judging a book by it's cover would be fine. The cover is beautiful and so is the book.
The Star-Touched Queen is based on some Indian and Greek mythology and I loved every minute of it. I was drawn in from the very beginning and I just couldn't put this book down. I absolutely loved the writing style of this book. I felt as if I was actually there with Maya.
Aside from the writing style I did enjoy the characters as well. There were a few times where some of them got on my nerves (Maya) but they were great overall. I enjoyed watching Maya grow and learn from her mistakes. I also really loved the riddles that she would come up with or answer as well as her story telling qualities! Amar was equally as awesome but I felt like we just didn't get enough of him. I would have definitely been interested in knowing more about Amar and Maya but I feel like this story was more of Maya's. Another lovely character came in the form of a flesh eating horse who just happens to be one of my favorites. ;)
I won't say too much else because I feel like you really shouldn't know too much going into this. Just know that this book is really just so enchanting and well written. There were a few slow parts for me and a few annoying moments with characters, but this book was really absorbing overall. I definitely enjoyed learning more about Indian mythology and their stories. I will definitely be reading more by this author!
Check this one out soon!
Vanessa