Happy December Everyone! Hopefully everyone had a great Thanksgiving and/or break. I know I had a very restful break and am ready to be done with my first semester of college! I am also looking forward to a few books that are being released this month. These next few Young Adult books will be released throughout the month and are the ones that I am looking forward to purchasing. They are not all the books that will be released this month. Are you looking forward to any of these? Which ones?
Later on in the month I will also be posting some Christmas Wishlist posts and reviews!
My Anticipated YA December Releases -
Breaking The Rules (Pushing The Limits 1.5)
By Katie McGarry
Publisher - Harper Teen
Expected Publication: December 8th, 2014
A summer road trip changes everything in this unforgettable new tale from acclaimed author Katie McGarry
For new high school graduate Echo Emerson, a summer road trip out west with her boyfriend means getting away and forgetting what makes her so... different. It means seeing cool sights while selling her art at galleries along the way. And most of all, it means almost three months alone with Noah Hutchins, the hot, smart, soul-battered guy who's never judged her. Echo and Noah share everything — except the one thing Echo's just not ready for.
But when the source of Echo's constant nightmares comes back into her life, she has to make some tough decisions about what she really wants — even as foster kid Noah's search for his last remaining relatives forces them both to confront some serious truths about life, love, and themselves.
Now, with one week left before college orientation, jobs and real life, Echo must decide if Noah's more than the bad-boy fling everyone warned her he'd be. And the last leg of an amazing road trip will turn... seriously epic.
I LOVED Pushing The Limits and cannot wait to read more about Noah and Echo! Who else is excited?! I also think that this book will be released in ebook form, just so ya know.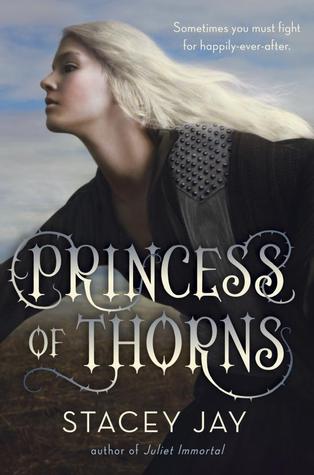 Princess of Thorns
By Stacey Jay
Publisher - Delacorte Press
Expected Publication: December 9th, 2014
Game of Thrones meets the Grimm's fairy tales in this twisted, fast-paced romantic fantasy-adventure about Sleeping Beauty's daughter, a warrior princess who must fight to reclaim her throne.
Though she looks like a mere mortal, Princess Aurora is a fairy blessed with enhanced strength, bravery, and mercy yet cursed to destroy the free will of any male who kisses her. Disguised as a boy, she enlists the help of the handsome but also cursed Prince Niklaas to fight legions of evil and free her brother from the ogre queen who stole Aurora's throne ten years ago.
Will Aurora triumph over evil and reach her brother before it's too late? Can Aurora and Niklaas break the curses that will otherwise forever keep them from finding their one true love?
I absolutely love retellings and I enjoy Stacey Jay's books. I definitely want to read this book! What about you?
Beautiful Curse
By Jen McConnel
Publisher - Swoon Romance
Expected Publication: December 9th, 2014
Sixteen-year-old Mya Jones is cursed.
She is, hands down, the most beautiful creature on earth. But beauty can wound, and Mya finds herself reviled and shunned by her peers. If there is even a chance that she could start over, Mya longs to take it, no matter the risks.
So when the strange Mr. Merk offers her a new life away from home, Mya is hesitant but hopeful. Only she didn't count on the mysterious Ross, or her feelings for him.
BEAUTIFUL CURSE is a contemporary retelling of the myth of Psyche and Cupid.
I just recently heard about this book but the synopsis definitely sounds interesting. I'm going to have to check it out!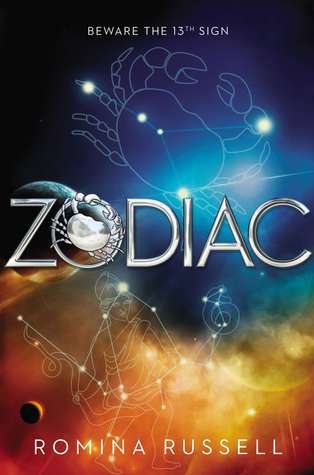 Zodiac (Zodiac #1)
By Romina Russell
Publisher - Razorbill
Expected Publication: December 9th, 2014
At the dawn of time, there were 13 Houses in the Zodiac Galaxy. Now only 12 remain….
Rhoma Grace is a 16-year-old student from House Cancer with an unusual way of reading the stars. While her classmates use measurements to make accurate astrological predictions, Rho can't solve for 'x' to save her life—so instead, she looks up at the night sky and makes up stories.
When a violent blast strikes the moons of Cancer, sending its ocean planet off-kilter and killing thousands of citizens—including its beloved Guardian—Rho is more surprised than anyone when she is named the House's new leader. But, a true Cancerian who loves her home fiercely and will protect her people no matter what, Rho accepts.
Then, when more Houses fall victim to freak weather catastrophes, Rho starts seeing a pattern in the stars. She suspects Ophiuchus—the exiled 13th Guardian of Zodiac legend—has returned to exact his revenge across the Galaxy. Now Rho—along with Hysan Dax, a young envoy from House Libra, and Mathias, her guide and a member of her Royal Guard—must travel through the Zodiac to warn the other Guardians.
But who will believe anything this young novice says? Whom can Rho trust in a universe defined by differences? And how can she convince twelve worlds to unite as one Zodiac?
Embark on a dazzling journey with ZODIAC, the first novel in an epic sci-fi-meets-high-fantasy series set in a galaxy inspired by the astrological signs.
I have always been interested in astrology so I'm definitely looking forward to this one!
Suspicion
By Alexandra Monir
Publisher - Delacorte Press
Expected Publication: December 9th, 2014
Mysterious. Magnificent. Creepy. Welcome to Rockford Manor.
"There's something hidden in the Maze." Seventeen-year-old Imogen has never forgotten the last words her father said to her seven years ago, before the blazing fire that consumed him, her mother, and the gardens of her family's English country manor.
Haunted by her parents' deaths, Imogen moves to New York City with her new guardians. But when a letter arrives with the news of her cousin's untimely death, revealing that Imogen is now the only heir left to run the estate, she returns to England and warily accepts her role as duchess.
All is not as it seems at Rockford, and Imogen quickly learns that dark secrets lurk behind the mansion's aristocratic exterior, hinting that the spate of deaths in her family were no accident. And at the center of the mystery is Imogen herself--and Sebastian, the childhood friend she has secretly loved for years. Just what has Imogen walked into?
Combining a fresh twist on the classic REBECCA with a spine-tingling mystery and powerful romance, SUSPICION is an action-packed thrill ride.
Again, I just found out about this book. The cover looks amazing and the synopsis doesn't sound too bad either.
What books are you all looking forward to this month?
Vanessa