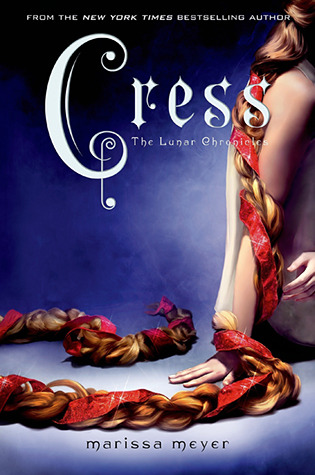 Cress (The Lunar Chronicles #3)
Published February 4th, 2014 by Feiwel & Friends
5 stars - AMAZING!!!
In this third book in the Lunar Chronicles, Cinder and Captain Thorne are fugitives on the run, now with Scarlet and Wolf in tow. Together, they're plotting to overthrow Queen Levana and her army.
Their best hope lies with Cress, a girl imprisoned on a satellite since childhood who's only ever had her netscreens as company. All that screen time has made Cress an excellent hacker. Unfortunately, she's just received orders from Levana to track down Cinder and her handsome accomplice.
When a daring rescue of Cress goes awry, the group is separated. Cress finally has her freedom, but it comes at a high price. Meanwhile, Queen Levana will let nothing prevent her marriage to Emperor Kai. Cress, Scarlet, and Cinder may not have signed up to save the world, but they may be the only hope the world has.
Review:
I absolutely LOVE this series! I have always enjoyed reading retellings of fairy tales and Marissa Meyer knows how to write a fantastic retelling. I love the characters and the situations they get themselves in. The character development is amazing as well. The reader is able to read the thoughts of multiple characters and it doesn't ever get confusing, at least not for me. It seems that we are introduced to new characters in each book but I haven't ever gotten them mixed up. They all add something to the whole story and are unique and lovable. I really don't know what I can say about this book that will do it any justice. I just know that it is amazing and I CANNOT wait for Winter next year.
In
Cress
our old friends are back along with some new ones. One of those new characters is Cress herself and I enjoyed how she is meant to be Rapunzel. Readers get character development with Cress, Thorne, Cinder, Scarlet, Wolf, and Kai. Cress and Thorne spend time together throughout most of the book and readers get to see them interact and form a type of relationship. I enjoyed Cress's character. She was a little naive at times but that makes sense because she had been by herself for so long. She was incredibly smart just like the other female leads. Cinder gets more weight added to her shoulders and Scarlet finds herself in some tough situations. I was so proud of the female leads because they went through quite a lot. Iko was also funny and sincere as usual. The guys were awesome as well and I got to see them in different situations.
All in all, this was another great book in the series. I really want to read the next book,
Winter.
Readers get to meet some of the characters that will be in the next book and I'm very interested in learning more about them. There were so many feels that I experienced throughout this book. I cried, laughed, held my breath and cringed. If you haven't read this yet, then you definitely need to now! Marissa Meyer is an absolute favorite of mine and I can't wait to read more from her.
Vanessa