Hello Everyone! Happy New Years Eve! In this post I will be sharing my favorite YA Contemporaries of 2014. I don't usually read too many contemporaries throughout the year but I found a ton of awesome ones this year. If you haven't read any of them yet, then I suggest you get on it!
*Books are not in any particular order!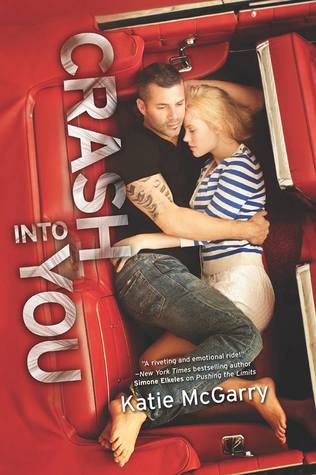 Crash Into You (Pushing The Limits #3)
By Katie McGarry
Published November 26th, 2013 by Harlequin Teen
*This book is part of the Pushing The Limits series but the books can be read in any particular order.*
Synopsis:
From acclaimed author Katie McGarry comes an explosive new tale of a romance forged in the fast lane

The girl with straight A's and the perfect life—that's who people expect Rachel Young to be. So the private school junior keeps secrets from her wealthy family…and she's just added two more to the list. One involves racing strangers down dark country roads in her Mustang GT. The other? Seventeen-year-old Isaiah Walker—a guy she has no business even talking to. But after the foster kid with the tattoos and intense gray eyes comes to her rescue, she can't get him out of her mind.

The last thing Isaiah needs is to get tangled up with a rich girl who wants to slum it on the south side for kicks. But when their shared love of street racing puts their lives in jeopardy, Isaiah and Rachel will have six weeks to come up with a way out. Six weeks to discover just how far they'll go to save each other.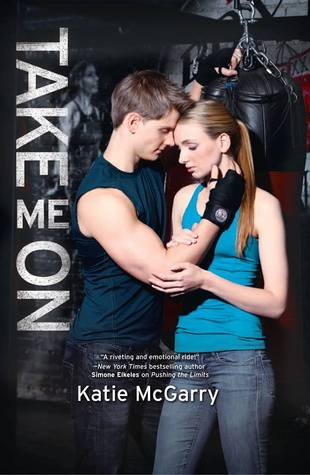 Take Me On (Pushing The Limits #4)
By Katie McGarry
Published May 27th, 2014 by Harlequin TEEN
Acclaimed author Katie McGarry returns with the knockout new story of two high school seniors who are about to learn what winning really means.
Champion kickboxer Haley swore she'd never set foot in the ring again after one tragic night. But then the guy she can't stop thinking about accepts a mixed martial arts fight in her honor. Suddenly, Haley has to train West Young. All attitude, West is everything Haley promised herself she'd stay away from. Yet he won't last five seconds in the ring without her help.
West is keeping a big secret from Haley. About who he really is. But helping her-fighting for her-is a shot at redemption. Especially since it's his fault his family is falling apart. He can't change the past, but maybe he can change Haley's future.
Hayley and West have agreed to keep their relationship strictly in the ring. But as an unexpected bond forms between them and attraction mocks their best intentions, they'll face their darkest fears and discover love is worth fighting for.
Breaking The Rules (Pushing The Limits #1.5)
By Katie McGarry
Published December 8th, 2014 by Harlequin Teen
A summer road trip changes everything in this unforgettable new tale from acclaimed author Katie McGarry
For new high school graduate Echo Emerson, a summer road trip out west with her boyfriend means getting away and forgetting what makes her so... different. It means seeing cool sights while selling her art at galleries along the way. And most of all, it means almost three months alone with Noah Hutchins, the hot, smart, soul-battered guy who's never judged her. Echo and Noah share everything — except the one thing Echo's just not ready for.
But when the source of Echo's constant nightmares comes back into her life, she has to make some tough decisions about what she really wants — even as foster kid Noah's search for his last remaining relatives forces them both to confront some serious truths about life, love, and themselves.
Now, with one week left before college orientation, jobs and real life, Echo must decide if Noah's more than the bad-boy fling everyone warned her he'd be. And the last leg of an amazing road trip will turn... seriously epic.
5 stars to all three of Katie McGarry's books! The Pushing The Limits books are incredible and I fall in love with each new character that Katie writes about. I was pretty lucky to be able to read 3 books by Katie this year! I suggest you pick them up if you haven't already!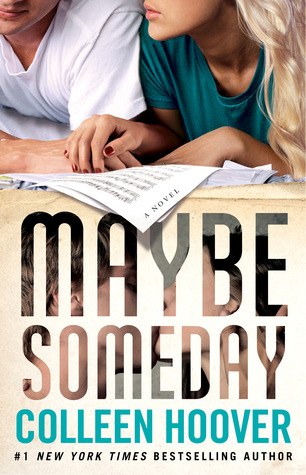 Maybe Someday (Maybe #1)
By Colleen Hoover
From #1
New York Times
bestselling author Colleen Hoover, a passionate tale of friendship, betrayal, and romance.
At twenty-two years old, Sydney has a great life: She's in college, working a steady job, in love with her wonderful boyfriend, Hunter, and rooming with her best friend, Tori. But everything changes when she discovers Hunter's cheating on her--and she is left trying to decide what to do next.
Sydney becomes captivated by Ridge, her mysterious neighbor. She can't take her eyes off him or stop listening to the passionate way he plays his guitar every evening out on his balcony. And there's something about Sydney that Ridge can't ignore, either. When their inevitable encounter happens, they soon find themselves needing each other in more ways than one...
Original music created for Maybe Someday by musician Griffin Peterson can be accessed through the website listed in the ebook and paperback.
I haven't read too many of Colleen Hoover's books yet but this one was AMAZING! There were so many feels and I know that I cried a few times. The characters were great as well and I fell in love with Ridge! Check this one out soon!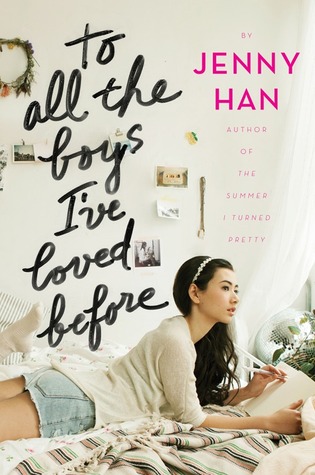 To All the Boys I've Loved Before (To All the Boys I've Loved Before #1)
By Jenny Han
To All the Boys I've Loved Before is the story of Lara Jean, who has never openly admitted her crushes, but instead wrote each boy a letter about how she felt, sealed it, and hid it in a box under her bed. But one day Lara Jean discovers that somehow her secret box of letters has been mailed, causing all her crushes from her past to confront her about the letters: her first kiss, the boy from summer camp, even her sister's ex-boyfriend, Josh. As she learns to deal with her past loves face to face, Lara Jean discovers that something good may come out of these letters after all.
This book was published this year and from the minute I saw it I wanted it! I fell in love with the characters right from the start. Lara Jean was someone I could relate to and the story was amazing! I cannot wait for the next one!