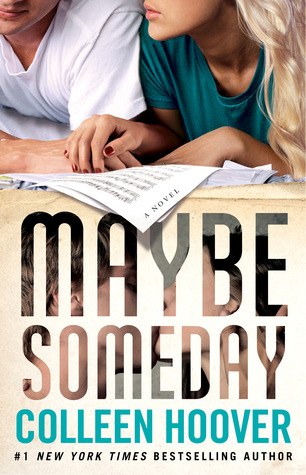 Published March 18th, 2014 by Atria Books
5 stars - AMAZING!!
From #1
New York Times
bestselling author Colleen Hoover, a passionate tale of friendship, betrayal, and romance.
At twenty-two years old, Sydney has a great life: She's in college, working a steady job, in love with her wonderful boyfriend, Hunter, and rooming with her best friend, Tori. But everything changes when she discovers Hunter's cheating on her--and she is left trying to decide what to do next.
Sydney becomes captivated by Ridge, her mysterious neighbor. She can't take her eyes off him or stop listening to the passionate way he plays his guitar every evening out on his balcony. And there's something about Sydney that Ridge can't ignore, either. When their inevitable encounter happens, they soon find themselves needing each other in more ways than one...
Original music created for Maybe Someday by musician Griffin Peterson can be accessed through the website listed in the ebook and paperback.
Review:
I'm slowly making my way through Colleen Hoover's books and I'm absolutely enjoying them! I definitely think that this is one of my favorites though. There were so many emotions that I felt throughout this book and there were quite a few times that I cried like a baby (which is a good thing).
I really enjoyed Sydney's character and reading through her perspective. She's a talented song writer and a good person. She makes some mistakes but she's a realistic character and a great friend. I felt for her during most of the book and I loved that the reader gets to see her grow. Ridge was an awesome guy and I fell in love with him almost immediately! He makes a few mistakes as well and while he is awesome, he isn't perfect. And the fact that both Sydney and Ridge were realistic was great. Ridge is also an extremely talented musician and I wish I could tell you more about it but I don't think it is something that one should know before going into the book. And since I don't want to spoil anything I can't go into much detail about the whole relationship between Ridge and Sydney.I can tell you that it is completely amazing and unique though. I loved watching them interact and seeing their relationship grow. There is a love triangle but it is not an ordinary one at all. I won't say who is in the triangle but it definitely plays a major part in the book. It wasn't annoying either. It added to the emotions that the characters felt and that I felt with them. And that's another thing! There were quite a few characters in this book that I really loved. They each had something good about them and I'd love to know more.
All I can say is that Maybe Someday is a must read! If you have read Colleen Hoover's other books, then you HAVE to read this one. If you haven't read anything by her, then definitely start with this one. There is so much that goes on this book and the characters grow so much by the end. I was completely enthralled by this book and I could not put it down! Plus it is dual perspective so you can read through Sydney's eyes and through Ridge's! I highly recommend this book and I cannot wait to be able to read more of Colleen's work. Check it out now!