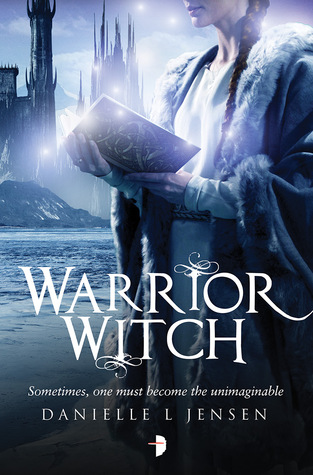 Warrior Witch (The Malediction Trilogy #3)
By Danielle L. Jensen
Published May 3rd, 2016 by Angry Robot
384 pages
4.5 stars - Such a bittersweet ending!
Synopsis from Goodreads.com:
The thrilling conclusion to the breakout Malediction Trilogy by Goodreads Choice finalist Danielle L. Jensen.
Cécile and Tristan have accomplished the impossible, but their greatest challenge remains: defeating the evil they have unleashed upon the world.
As they scramble for a way to protect the people of the Isle and liberate the trolls from their tyrant king, Cécile and Tristan must battle those who'd see them dead. To win, they will risk everything. And everyone.
But it might not be enough. Both Cécile and Tristan have debts, and they will be forced to pay them at a cost far greater than they had ever imagined.
Review:
Wow. I just don't even know where to start. I just finished this book about an hour ago and my heart is still pretty much broken...
Warrior Witch starts right where Hidden Huntress left off. We get right into the action and things get pretty intense and suspenseful and heartbreaking pretty quick. Tristan and Cecile have to figure out how to keep everyone safe from Winter as well as the Duke and Roland. There are what feels like so many enemies and so few allies, but nonetheless, Cecile and Tristan persevere.
There is just so much that happened in this book and I feel like I can't even form words right now. Cecile and Tristan face so many difficult situations once again. Everyone is tested in this book and the fates of our friends are in jeopardy. There are enemies on all sides and so many people end up hurt or dead.
Warrior Witch was just one roller coaster ride after the other. There is never really a dull moment. The book is full of different characters scheming and trying to figure out how to win.
I enjoyed the characters as usual and seeing them grow into themselves. The secondary characters took on more responsibility as well. Tristan and Cecile were awesome as always. They didn't have a ton of time with each other throughout the book but I enjoyed those precious moments nonetheless.
Like I was saying before, so much happens in this book. Mainly fighting and scheming and heartbreak. But questions are answered and bargains/favors are called in. Our friends' stories get wrapped up and the ending is incredibly bittersweet. The ending just tore my heart out of my chest and stomped on it over and over.
That being said, I have somewhat mixed feelings about the ending because it was totally bittersweet. There were good things that happened and nice endings for some friends, but there were also really difficult situations that resulted from previous choices.
All in all, Warrior Witch wrapped up The Malediction Trilogy quite nicely. My questions were answered and I was able to find out how everyone I cared about ended up. The book was fast paced and full of action, suspense, laughter, sweet moments, and heartbreak. I cried, laughed, sobbed and may have thrown a tantrum, but I absolutely loved my experience with this book. If you haven't picked this one up yet, then definitely do so soon!
I'll for sure miss that enchanting world of Trollus (and Tristan ;)).
Vanessa