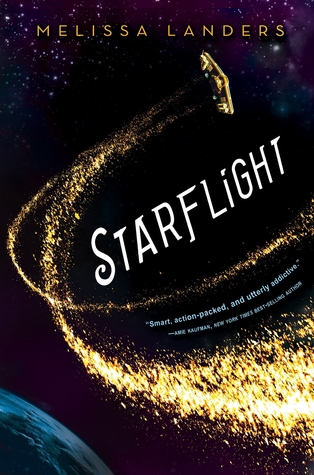 Starflight (Starflight #1)
By Melissa Landers
Published February 2nd, 2016 by Disney-Hyperion
369 pages
4 stars - Entertaining space read!
Synopsis from Goodreads.com:
Life in the outer realm is a lawless, dirty, hard existence, and Solara Brooks is hungry for it. Just out of the orphanage, she needs a fresh start in a place where nobody cares about the engine grease beneath her fingernails or the felony tattoos across her knuckles. She's so desperate to reach the realm that she's willing to indenture herself to Doran Spaulding, the rich and popular quarterback who made her life miserable all through high school, in exchange for passage aboard the spaceliner Zenith.
When a twist of fate lands them instead on the Banshee, a vessel of dubious repute, Doran learns he's been framed on Earth for conspiracy. As he pursues a set of mysterious coordinates rumored to hold the key to clearing his name, he and Solara must get past their enmity to work together and evade those out for their arrest. Life on the Banshee may be tumultuous, but as Solara and Doran are forced to question everything they once believed about their world—and each other—the ship becomes home, and the eccentric crew family. But what Solara and Doran discover on the mysterious Planet X has the power to not only alter their lives, but the existence of everyone in the universe...
Review:
I absolutely love the cover of Starflight. This was probably the number one reason for why I borrowed this book from the library. Then I started to read it and I was hooked from the first page!
I felt like I was starting to feel a little overwhelmed with all the books I have to choose from and I knew that I needed to start reading some of the books I had checked out from the library. I had heard good things about this book and knew that I would start this one first. I am so glad that I did!
Starflight caught my attention from the beginning and didn't let go. This was such a fun and suspenseful read! I was enthralled with all the adventures and situations that these characters got themselves into.
Solara is an orphan, talented mechanic, outlaw, and soon to be indentured servant to Doran Spaulding. Solara dreams of escaping to the outer realm where she can finally be free of her past mistakes. The only way to get there is by indenturing herself to Doran, a rich and popular quarterback that had made her life miserable, in exchange for passage onto the Zenith. Tables soon turn when the two find themselves aboard the Banshee and Doran finds himself framed on Earth for something he didn't do. The rest of the book finds Solara, Doran, and a crew of misfits traveling through space in hopes of clearing Doran's name and getting Solara to the outer realm.
I really enjoyed all the little missions that Solara and Doran found themselves on. They were entertaining and amusing at times, but also extremely suspenseful and intense! It was interesting to see how this universe was different and, yet, similar to ours. Earth was still around but there were a ton of different planets that different kinds of people were living on.
I also enjoyed the cast of characters in this book. Solara was amusing, talented, and just great to read through. She was great at doing things on her own, like fixing the ship. It was interesting to read about her story and her feelings for the crew/Doran. Doran was one of the characters that showed quite a bit of growth. He started out thinking one way and then ended the story with thinking another. He learned more about who Solara was and learned to do more than just be a business man. His story was also intriguing. The rest of the crew were endearing in their own way and I couldn't help but love each one of them (especially the sugar glider).
The ending was just right for these characters. I can't wait to read the next companion novel and find out what the Banshee crew is up to next!
An intriguing, amusing, entertaining, and suspenseful read! Definitely check this one out soon!
Vanessa