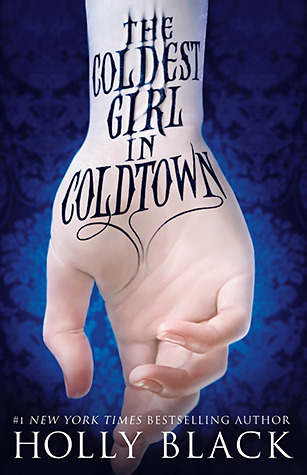 The Coldest Girl in Coldtown (The Coldest Girl in Coldtown #1)
By Holly Black
Published September 3rd 2013 by Little, Brown Books for Young Readers
419 pages
4 stars - Intriguing!
Tana lives in a world where walled cities called Coldtowns exist. In them, quarantined monsters and humans mingle in a decadently bloody mix of predator and prey. The only problem is, once you pass through Coldtown's gates, you can never leave.
One morning, after a perfectly ordinary party, Tana wakes up surrounded by corpses. The only other survivors of this massacre are her exasperatingly endearing ex-boyfriend, infected and on the edge, and a mysterious boy burdened with a terrible secret. Shaken and determined, Tana enters a race against the clock to save the three of them the only way she knows how: by going straight to the wicked, opulent heart of Coldtown itself.
The Coldest Girl in Coldtown
is a wholly original story of rage and revenge, of guilt and horror, and of love and loathing from bestselling and acclaimed author Holly Black.
Review:
When I saw that Holly Black was coming out with a new book, I was excited. When I found out that the story is a take on vampires, I was a little unsure. I read the book and found out that it didn't even matter. I really did enjoy Holly Black's take on vampires and the world that she created. It was different and kind of odd, and it was definitely enjoyable.
Tana seems to be a pretty strong female character or just character in general. She's already been through a traumatizing event as a young child, but then she lives through a few more throughout the book. She has to make difficult decisions as well. I also really enjoyed Gavriel, even if I find his name kind of odd, because he was intriguing in his own way. He made for interesting conversations as well. :) I liked how we were able to learn more about his past throughout the book. It really helped with getting to know the character better. There were a few characters that annoyed me but overall it was a pretty enjoyable read.
The whole story of Coldtown was intriguing in a way and it definitely felt like something apart from the regular world. I'm definitely interested in reading the next book. There will be one, right? I am very eager to find out what happens to Tana and Gavriel and the rest of their friends! If you haven't checked this one out yet, then do so now!
Vanessa