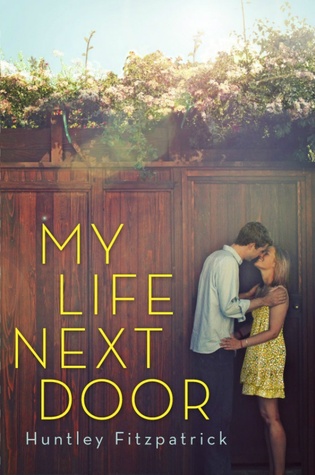 My Life Next Door
By Huntley Fitzpatrick
Published June 14th, 2012 by Dial Books for Young Readers
394 pages
4.5 stars - Awesome Summer Read!
"One thing my mother never knew, and would disapprove of most of all, was that I watched the Garretts. All the time."
The Garretts are everything the Reeds are not. Loud, messy, affectionate. And every day from her rooftop perch, Samantha Reed wishes she was one of them . . . until one summer evening, Jase Garrett climbs up next to her and changes everything.
As the two fall fiercely for each other, stumbling through the awkwardness and awesomeness of first love, Jase's family embraces Samantha - even as she keeps him a secret from her own. Then something unthinkable happens, and the bottom drops out of Samantha's world. She's suddenly faced with an impossible decision. Which perfect family will save her? Or is it time she saved herself?
A transporting debut about family, friendship, first romance, and how to be true to one person you love without betraying another.
Review:
If you want a quick and meaningful summer read then My Life Next Door is just the book for you. It was a great summer read that I enjoyed quite a bit. It was an easy book to get into and it was easy to quickly finish it as well. Despite it being an easy read, My Life Next Door had some topics that really made me think. But it also made me laugh and Jase definitely had me swooning. ;)
Samantha was a pretty nice character to read about. She was real and she had some pretty real issues. I felt for her because her mom was hardly ever around being part of the political world. Sam's sister wasn't apart of the story too much and I wonder if we'll get a story about her someday. Her mom was a difficult character to like and to sympathize with but she did have her moments, Sam lived in a world that was far different from her neighbors, the Garretts. The Garrett's household was full of live and excitement and family, something that Samantha was drawn to. I absolutely loved that family! They had a ton of kids and the parents were supportive and there for their children. The whole family worked together to take care of everyone and I really enjoyed reading Samantha's thoughts about them. Jase was just an awesome character as well. He was such a great brother, friend and boyfriend! He helped his parents and family so much and was pretty funny and laid back. I really enjoyed the relationship between Samantha and Jase and I loved watching them grow and make it through the difficult times that came their way. There were a few other important characters as well, like Sam's friends. I don't want to say too much but I will say that more than one character grows throughout the book.
I just really enjoyed this book and I loved the style of writing. I also loved that this book made me think despite having lighter topics as well. I just found out that Huntley Fitzpatrick is writing a companion/sequel type novel to this series and I just can't wait! I definitely loved reading about these characters and I'm looking forward to learning more about them. If you are looking for a great summer read then look no further!
Vanessa