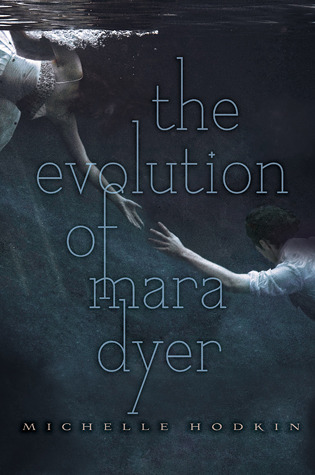 The Evolution of Mara Dyer (Mara Dyer #2)
By Michelle Hodkin
Published October 23rd, 2012 by Simon and Schuster Books for Young Readers
528 pages
5 stars - AMAZING SEQUEL!!
Mara Dyer once believed she could run from her past.
She can't.
She used to think her problems were all in her head.
They aren't.
She couldn't imagine that after everything she's been through, the boy she loves would still be keeping secrets.
She's wrong.
In this gripping sequel to The Unbecoming of Mara Dyer, the truth evolves and choices prove deadly.
What will become of Mara Dyer next?
Review:
Wow. I absolutely love Michelle Hodkin's writing. She has a way of pulling you in and not letting go. There was just so much suspense, mystery, and romance and it all worked so well. Usually sequels aren't my favorite but this book is definitely an exception. It didn't even feel like a sequel!
This book pretty much picks up where the first one ended. Right from the start Hodkin has your heart racing and your paranoia setting in. It'll be difficult for you to figure what's real and what isn't, it was for me. Then there was the creepy factor in this book. Some things that happened were so creepy that I could only read the book during the day! (I have an overactive imagination, don't laugh!) The Evolution of Mara Dyer was just plain awesome and I can not wait for the last book even though I don't want to say goodbye to all the wonderful characters (mainly Noah). ;)
Which brings us to said wonderful characters. Let's start with Mara. I just felt so bad for Mara and all that she's been through. Then no one will believe her when she's telling the truth. And what happens when her family won't believe her? They make her get help from some very creepy doctors and she also meets a very psycho patient. All in all, Mara has it pretty rough but she also has Noah Shaw at her side. Ahh Noah... We learn quite a bit more about Noah in this book and I absolutely loved it! Also, the chemistry between these two? Amazing. I just love the two of them together and they aren't perfect but they make it work. We see Mara's family again and I also love her brothers as well and the fact that they still help her even when they don't exactly believe her. Jamie makes an appearance but I can't say how and we learn more about him as well. Some new characters and some old ones are around also but I don't want to spoil anything. :)
There was so much that went on in this book and it all led up to a pretty big cliff hanger. Like, we find out some pretty important information. I don't know what else to say but I do know that you should read this book if you haven't yet! If you haven't read the first one then you should probably read that first! And read it now! The Evolution of Mara Dyer is amazing and I wish I had a better way of describing it but this is all I got. :) So what are you waiting for!? Go read it now!
Vanessa