Hey Everyone! I can't believe that it's already August! Can you? July went by pretty quickly but I was able to read quite a few books during the month. This month I hope to read just as many but I'll be starting my Freshman year of college so we'll see how that goes. Even if I can't, there are a few August releases that I'm looking forward to. So without further ado, here are the books I'm looking forward to this month!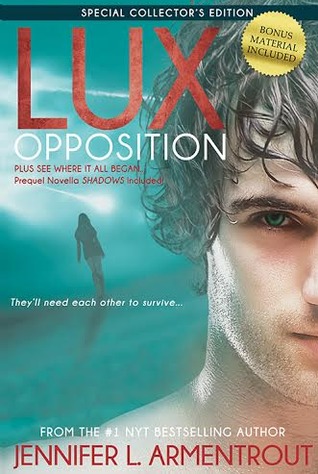 Opposition (Lux #5)
By Jennifer L. Armentrout
Release Date: August 5th, 2014 by Entangled Teen
I'll leave out the synopsis for this one in case you haven't read the first 4 books. If you want to check it out then click on the title to read the Goodreads page!
The number one book that I just can't wait to read this month is Opposition by Jennifer L. Armentrout! Opposition is the fifth and last book in the Lux series and I have waited forever to read it. While I'm extremely excited to read about Daemon and Katy again, I'm also sad to have to say good bye to my favorite characters. Opposition is actually released today, August 5th!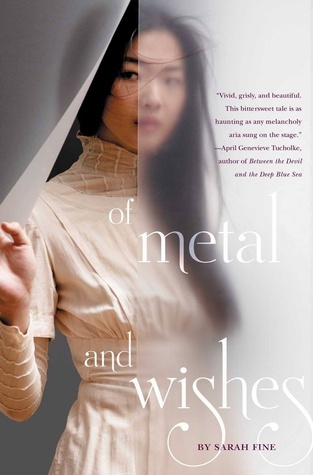 Of Metal and Wishes (Of Metal and Wishes #1)
By Sarah Fine
Release Date: August 5th, 2014 by Margaret K. McElderry Books
Synopsis from Goodreads:
There are whispers of a ghost in the slaughterhouse where sixteen-year-old Wen assists her father in his medical clinic—a ghost who grants wishes to those who need them most. When one of the Noor, men hired as cheap factory labor, humiliates Wen, she makes an impulsive wish of her own, and the Ghost grants it. Brutally.
Guilt-ridden, Wen befriends the Noor, including their outspoken leader, a young man named Melik. At the same time, she is lured by the mystery of the Ghost and learns he has been watching her … for a very long time.
As deadly accidents fuel tensions within the factory, Wen must confront her growing feelings for Melik, who is enraged at the sadistic factory bosses and the prejudice faced by his people at the hand of Wen's, and her need to appease the Ghost, who is determined to protect her against any threat—real or imagined. She must decide whom she can trust, because as her heart is torn, the factory is exploding around her … and she might go down with it.
Of Metal and Wishes definitely sounds interesting and already has great reviews. It sounds creepy and just plain awesome so I'm looking forward to checking this one out! This book is released today as well.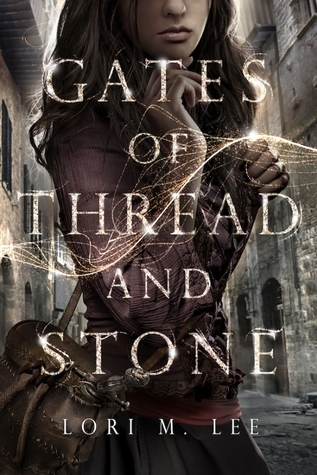 Gates of Thread and Stone (Gates of Thread and Stone #1)
By Lori M. Lee
Release Date: August 5th, 2014 by Skyscape
Goodreads Synopsis:
In the Labyrinth, we had a saying: keep silent, keep still, keep safe.
In a city of walls and secrets, where only one man is supposed to possess magic, seventeen-year-old Kai struggles to keep hidden her own secret—she can manipulate the threads of time. When Kai was eight, she was found by Reev on the riverbank, and her "brother" has taken care of her ever since. Kai doesn't know where her ability comes from—or where
she
came from. All that matters is that she and Reev stay together, and maybe one day move out of the freight container they call home, away from the metal walls of the Labyrinth. Kai's only friend is Avan, the shopkeeper's son with the scandalous reputation that both frightens and intrigues her.
Then Reev disappears. When keeping silent and safe means losing him forever, Kai vows to do whatever it takes to find him. She will leave the only home she's ever known and risk getting caught up in a revolution centuries in the making. But to save Reev, Kai must unravel the threads of her past and face shocking truths about her brother, her friendship with Avan, and her unique power.
I have to admit that it was the cover that first intrigued me but after reading the synopsis I can say that I'm pretty excited to get my hands on this book. A labyrinth and magic, sounds pretty interesting to me. :) Looking forward to reading this one! Gates of Thread and Stone is also released today!
Mortal Danger (Immortal Game #1)
By Ann Aguire
Release Date: August 5th, 2014 by Feiwel & Friends
Goodreads Synopsis:
Revenge is a dish best served cold.
In Ann Aguirre's
Mortal Danger
, Edie Kramer has a score to settle with the beautiful people at Blackbriar Academy. Their cruelty drove her to the brink of despair, and four months ago, she couldn't imagine being strong enough to face her senior year. But thanks to a Faustian compact with the enigmatic Kian, she has the power to make the bullies pay. She's not supposed to think about Kian once the deal is done, but devastating pain burns behind his unearthly beauty, and he's impossible to forget.
In one short summer, her entire life changes and she sweeps through Blackbriar, prepped to take the beautiful people down from the inside. A whisper here, a look there, and suddenly . . . bad things are happening. It's a head rush, seeing her tormentors get what they deserve, but things that seem too good to be true usually are, and soon, the pranks and payback turns from delicious to deadly. Edie is alone in a world teeming with secrets and fiends lurking in the shadows. In this murky morass of devil's bargains, she isn't sure who—or what—she can trust. Not even her own mind.
I've already read Enclave by Ann Aguirre and I really did enjoy it so I'm looking forward to reading her new series. Mortal Danger will be the first book and it already seems to have mixed reviews but it seems interesting and different in some ways. I'm interested in seeing how Aguirre wrote this one and just to read it in general. Plus, the cover looks pretty cool, right? This book is also released today!
Release Date: August 26th, 2014 by Simon and Schuster Books for Young Readers
This is the last book that I'm looking forward to this month. I'll link the title to the Goodreads page because this book is the second in the Maid of Honor series. I haven't read the first one yet but I'm really wanting to and will probably read it this month. The first book sounded really interesting so I'm sure that I'll want to read this one right after it! Plus it already has some pretty good reviews. And the cover seems very interesting. ;) This book will be released August 26th.
Are you looking forward to reading any August releases? Which ones?
Vanessa