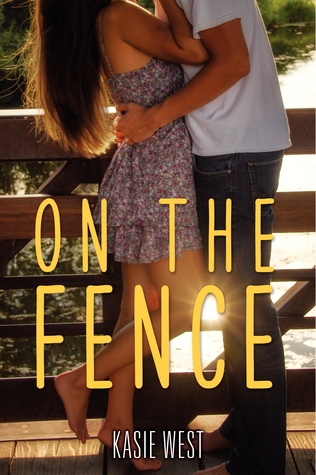 Published July 1st, 2014 by HarperTeen
4 stars - Fantastic Read!
For sixteen-year-old Charlotte Reynolds, aka Charlie, being raised by a single dad and three older brothers has its perks. She can outrun, outscore, and outwit every boy she knows—including her longtime neighbor and honorary fourth brother, Braden. But when it comes to being a girl, Charlie doesn't know the first thing about anything. So when she starts working at chichi boutique to pay off a speeding ticket, she finds herself in a strange new world of makeup, lacy skirts, and BeDazzlers. Even stranger, she's spending time with a boy who has never seen her tear it up in a pickup game.
To cope with the stress of faking her way through this new reality, Charlie seeks late-night refuge in her backyard, talking out her problems with Braden by the fence that separates them. But their Fence Chats can't solve Charlie's biggest problem: she's falling for Braden. Hard. She knows what it means to go for the win, but if spilling her secret means losing him for good, the stakes just got too high.
Review:
Since last year I have seen so many good reviews of this book and I was dying to know what all the fuss was about. I was finally able to borrow this book and was completely pleased with the story and the characters. I don't really read too many YA contemporaries so I am very happy when I find one that is very enjoyable. On The Fence is one of those enjoyable books that isn't too heavy but, at the same time, leaves you thinking.
Charlie is a sixteen year old girl that lives in a home filled with guys. She loves her brothers and beating them in almost any sport. She doesn't think of herself as a normal girl though because she isn't one for all the lace, makeup, or shopping at the mall. She would much rather play some sport with her her brothers and her neighbor, Braden.
Charlie's character and I are complete opposites in the fact that she is really great at sports and I am really bad. :) I wasn't able to completely connect with her on that level but it didn't stop me from enjoying her character. I enjoyed the fact that I was able to learn new things through her character. :) Charlie is like every normal girl despite what she thinks in the beginning. She's a good friend, sibling, and daughter. I enjoyed seeing her grow from the beginning to the end. She doesn't have her mother with her to teach her everything about being a woman and I could just feel for her and her confusions. She did have some great support though.
Charlie's brothers were awesome and they each had their own personalities that added to the book. Some of my favorite parts were the fence chats with Braden and Charlie. I really loved their relationship, especially as the book progressed.
On The Fence is a quick read and incredibly easy to get into. The characters are really what make the story and I was so happy to have been able to read it. Check it out soon!