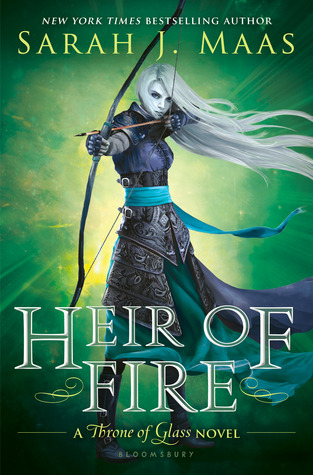 Heir of Fire (Throne of Glass #3)
Published September 2nd, 2014 by Bloomsbury USA Childrens
5 stars - AMAZING!!
*WARNING - THERE WILL NO DOUBT BE SPOILERS FOR THE FIRST 2 BOOKS IN THE SERIES! DO NOT PROCEED IF YOU HAVEN'T READ THE FIRST 2 BOOKS!!*
Lost and broken, Celaena Sardothien's only thought is to avenge the savage death of her dearest friend: as the King of Adarlan's Assassin, she is bound to serve this tyrant, but he will pay for what he did. Any hope Celaena has of destroying the king lies in answers to be found in Wendlyn. Sacrificing his future, Chaol, the Captain of the King's Guard, has sent Celaena there to protect her, but her darkest demons lay in that same place. If she can overcome them, she will be Adarlan's biggest threat – and his own toughest enemy.
While Celaena learns of her true destiny, and the eyes of Erilea are on Wendlyn, a brutal and beastly force is preparing to take to the skies. Will Celaena find the strength not only to win her own battles, but to fight a war that could pit her loyalties to her own people against those she has grown to love?
Wow. I cannot even begin to describe the feelings that I had after finishing this wonderfully written book. There are no words that would do justice so bear with me while I try to explain my loves, likes, and dislikes. :)
If you have not read the first two books in the series, then do not read any further! Unless you want to be spoiled I would recommend reading the previous books first.
Heir of Fire picks up somewhat where Crown of Midnight left off. We are introduced to all our old friends and enemies as well as some new and exciting characters. We have a few different viewpoints that we read through including Celaena, Dorian, Chaol, Rowan, Aedion, Manon, and Sorscha. Quite a bit there but Maas executes their individual thoughts and voices perfectly. I didn't once get tired of reading through other characters eyes because there was always something going on with each one.
There is so much to be learned about Celaena in this book. We watch her grow and really figure out who she is. We learned before that Celaena is actually the lost Aelin and should really be a Queen so it is obvious that we haven't seen all the sides to her yet. Well be prepared to watch Celaena really find herself in this book. There are many memories and secrets about her childhood that are revealed and they are so interesting. She figures out more about her Fae powers and how to control them. Celaena just goes through so much but I loved that she was able to overcome just about everything that was thrown at her. She didn't do this on her own though.
Rowan Whitethorn is a Fae Prince and answers to Queen Maeve. He also trains Celaena in wielding and controlling her Fae powers throughout the book. Rowan is definitely not a cuddly kind of Fae and is harsh and rude at times. But he is also powerful and loyal to the causes that he believes in. He doesn't give up and has gone through quite a bit considering that he is pretty old. I loved the new relationship that Celaena was able to build with him and the fact that it wasn't actually romantic. It was a friendship that is strong and sure to last throughout the next three books.
Dorian and Chaol are back as well but not really on speaking terms. Chaol kind of irritated me throughout the book because he didn't really seem to make up his mind. He was unsure of his feelings about Celaena's Fae abilities and Dorian's magic. This meant that Dorian was kind of left alone to figure out his magic! Luckily Dorian did have some help from a healer, Sorscha. So Dorian and Sorscha form a relationship of sorts and it was nice to actually see someone there for Dorian and to see him happy.
Chaol was not left alone either and ends up forming a sort of alliance with Aedion Ashryver. I'm not going to tell you who he is but he does have something to do with Celaena and isn't quite what he seems. Aedion is a great character though and incredibly loyal. :)
While we have the people going against the King we also have the people working for him. Manon Blackbeak is the heir of the Blackbeak coven of the Ironteeth witches. I really enjoyed reading things through her perspective. She is a witch and one similar to the one we met in the last book. She is cunning, strong, and ruthless because she was raised that way. She befriends a wyvern named Abraxos who is incredibly cute and loyal as well. But it also seems Manon is not all she seems to be.
There are so many wonderful and horrible characters that you will be introduced to when reading this book and I loved that! I didn't ever get bored reading about them and their obstacles. Everyone grew so much throughout this book and there was a ton going on with them. There are more secrets and horrible creatures and the future is rocky. The ending was such an emotional roller coaster. Major events take place and certain characters put their lives on the line. I cannot wait for the next book because I HAVE to know what will happen to them. Maas has done such an incredible job at creating this wonderful yet horrifying world and the characters and creatures that inhabit it. I felt as if I was really there and I was also able to connect with so many characters.
If you haven't read this one yet, then you need to do so now!
Vanessa


*Synopsis and book cover from Goodreads.com*