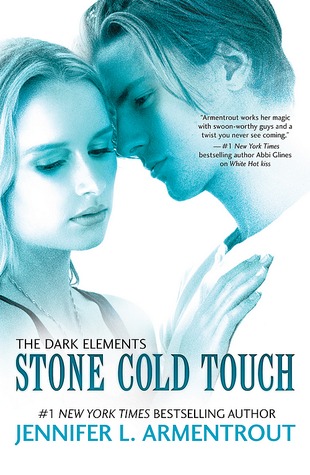 Stone Cold Touch (The Dark Elements #2)
By Jennifer L. Armentrout
Published October 21st, 2014 by Harlequin Teen
446 pages
5 stars - AMAZING!!!
Every touch has its price
Layla Shaw is trying to pick up the pieces of her shattered life—no easy task for a seventeen-year-old who's pretty sure things can't get worse. Her impossibly gorgeous best friend, Zayne, is forever off-limits thanks to the mysterious powers of her soul-stealing kiss. The Warden clan that has always protected her is suddenly keeping dangerous secrets. And she can barely think about Roth, the wickedly hot demon prince who understood her in ways no one else could.
But sometimes rock bottom is only the beginning. Because suddenly Layla's powers begin to evolve, and she's offered a tantalizing taste of what has always been forbidden. Then, when she least expects it, Roth returns, bringing news that could change her world forever. She's finally getting what she always wanted, but with hell literally breaking loose and the body count adding up, the price may be higher than Layla is willing to pay…
Review:
I cannot tell you how long I have been waiting to read this book and now I am finished with it! Ahh! Jennifer L. Armentrout is definitely one of my all time favorite authors because I have been loving everything that she writes. This book is no exception and I am longing for the next book because I HAVE to know the outcome.
I'm pretty sure that I'm just going to start rambling and not making sense because I have so much to say about this book. But at the same time I don't want to spoil anything for anyone. I will tell you that I had so many feels throughout this book and especially near the end. Layla is always an awesome character to read things through. We get to learn a little more about Zayne and we get to see the relationship between him and Layla progress. At the same time we get to see Roth again! I was very excited about this. :) But Layla is torn between Zayne and Roth and I have to say that I was too for a little. I think I know who I'm rooting for now though...;)
There is a ton going on in this book. There are revelations that are made and secrets that are shared. There were also some situations that made me pretty upset for Layla but I won't go into detail. ;). The end is a definite cliff hanger for a few reasons and I'll let you know that I also cried a few times throughout the book. There are moments that touch your heart and then there are humorous moments as well. Stone Cold Touch is a great sequel and I cannot wait for the next book because I need more Layla, Roth, and Zayne! I know that I really didn't say too much but I think you'll want to find out all the juicy details on your own. If you haven't read this one yet, then go and pick it up!
Vanessa