Hello Everyone! It is getting closer to Christmas and I'm super excited. I know that I'll be getting a few books for Christmas! :) I had been thinking about doing a top ten of the year type post but I have way too many favorite books this year. 2014 was definitely a great year for reading so I decided to split up my favorites of the year. This first part has to do with my favorite books that were sent to me for review this year. Have you read any of them? Check them out if you haven't!
John Dreamer (John Dreamer #1)
Published February 12th, 2014 by AuthorBuzz
Andy wasn't usually sure about much, but she was absolutely certain this was the weirdest day of her life as she stood stranded in the middle of a great white room with six strangers. Well, they were mostly strangers. She could have sworn she'd seen the guy with the green eyes before, and maybe that was why he kept staring at her.
When a man calling himself the Guardian appeared and said they had come to make their deepest dreams come true, they embark on an adventure none of them ever imagined, and the consequences of their actions would change them forever.
"John Dreamer" is the first in a series of books set in the confines of the Great White Room.
Here is my 5 star review - John Dreamer Review
Kitty Hawk Flying Detective Agency Series (1-4)
By Iain Reading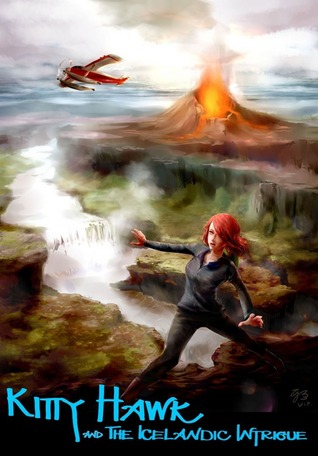 Kitty Hawk and The Curse of the Yukon Gold Synopsis:
Kitty Hawk and the Curse of the Yukon Gold is the thrilling first installment in a new series of adventure mystery stories that are one part travel, one part history and five parts adventure. This first book of the Kitty Hawk Flying Detective Agency Series introduces Kitty Hawk, an intrepid teenage pilot with her own De Havilland Beaver seaplane and a nose for mystery and intrigue. A cross between Amelia Earhart, Nancy Drew and Pippi Longstocking, Kitty is a quirky young heroine with boundless curiosity and a knack for getting herself into all kinds of precarious situations.
After leaving her home in the western Canadian fishing village of Tofino to spend the summer in Alaska studying humpback whales Kitty finds herself caught up in an unforgettable adventure involving stolen gold, devious criminals, ghostly shipwrecks, and bone-chilling curses. Kitty's adventure begins with the lingering mystery of a sunken ship called the Clara Nevada and as the plot continues to unfold this spirited story will have armchair explorers and amateur detectives alike anxiously following every twist and turn as they are swept along through the history of the Klondike Gold Rush to a suspenseful final climatic chase across the rugged terrain of Canada's Yukon, the harsh land made famous in the stories and poems of such writers as Jack London, Robert Service and Pierre Berton. It is a riveting tale that brings to glorious life the landscape and history of Alaska's inside passage and Canada's Yukon, as Kitty is caught up in an epic mystery set against the backdrop of the scenery of the Klondike Gold Rush.
Kitty Hawk and the Curse of the Yukon Gold is a perfect book to fire the imagination of readers of all ages. Filled with fascinating and highly Google-able locations and history this book will inspire anyone to learn and experience more for themselves as Kitty prepares for her next adventure - flying around the world!
My Review for Kitty Hawk #1
My Review for Kitty Hawk #2
My Review for Kitty Hawk #3 -
My Review for Kitty Hawk #4
This is a series that is great for readers of all ages! I was asked to read the first book at the beginning of this year and not too long ago I finished the fourth book. I have definitely enjoyed reading these books and have learned quite a bit while doing so. The great this is that I have enjoyed learning a ton of facts! Iain Reading does a wonderful job at creating interesting and exciting stories that teach at the same time. And Kitty Hawk is an awesome female lead that has quite a few awesome adventures. If you haven't heard about these books yet, then check them out soon!
That wraps up my favorite books for review of 2014! Check them out soon!
Vanessa