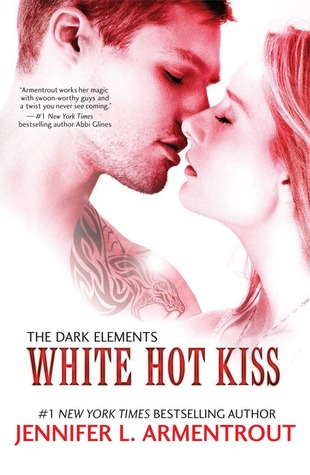 White Hot Kiss (The Dark Elements #1)
By Jennifer L. Armentrout
Published February 25th, 2014 by Harlequin Teen
400 pages
4.5 stars - Amazing - yet again!
One kiss could be the last.
Seventeen-year-old Layla just wants to be normal. But with a kiss that kills anything with a soul, she's anything but normal. Half demon, half gargoyle, Layla has abilities no one else possesses.
Raised among the Wardens—a race of gargoyles tasked with hunting demons and keeping humanity safe—Layla tries to fit in, but that means hiding her own dark side from those she loves the most. Especially Zayne, the swoon-worthy, incredibly gorgeous and completely off-limits Warden she's crushed on since forever.
Then she meets Roth—a tattooed, sinfully hot demon who claims to know all her secrets. Layla knows she should stay away, but she's not sure she wants to—especially when that whole no-kissing thing isn't an issue, considering Roth has no soul.
But when Layla discovers she's the reason for the violent demon uprising, trusting Roth could not only ruin her chances with Zayne…it could brand her a traitor to her family. Worse yet, it could become a one-way ticket to the end of the world.
Jennifer has done it once again! I loved White Hot Kiss and I desperately need to get my hands on the next book. I loved Layla and I am in love with Roth.
I wasn't quite sure if I would end up enjoying White Hot Kiss because I haven't read too many books about gargoyles. The ones I did read about them didn't feature them as main characters so, like I said, I wasn't sure. I did know that I love Jennifer's writing and her stories so I was willing to give it a try. I'm glad that I did because this is not a book that you wan to miss out on. It is captivating and interesting and full of humor and hot guys! Roth and Zayne are the hot guys - just so you know. :) Some of the characters were awesome and some were despicable. I totally felt for Layla because she had so much going against her and so many against her as well. She was devoted to her family but some weren't as fond of her. I think she grew throughout the book and was able to figure out who she really is - part demon and part gargoyle. Roth definitely helped her out and I thought he was a wonderful character even if he was demon. I think both of them learned a few things about themselves. Zayne was a good friend to Layla and I'm interested in seeing where things are going to go with them as well.
The history of the gargoyles was interesting and their abilities were neat as well. I loved this book and for the most part, I couldn't put it down. I was captivated and I just can't wait to read the next book. The ending was suspenseful and definitely a cliff hanger. All I can say is you'll be wanting the next book right after you read the end of this one. Don't miss out on this book!
Vanessa