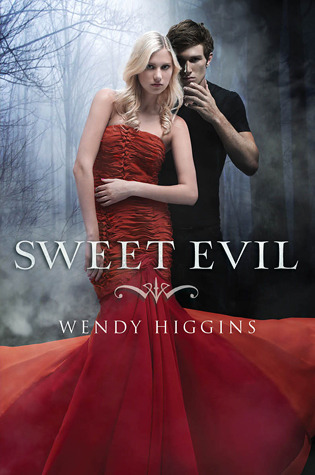 Sweet Evil (The Sweet Trilogy #1)
By Wendy Higgins
Published May 1st, 2012 by HarperTeen
453 pages
4.5 stars - Intoxicating!
Embrace the Forbidden
What if there were teens whose lives literally depended on being bad influences?
This is the reality for sons and daughters of fallen angels.
Tenderhearted Southern girl Anna Whitt was born with the sixth sense to see and feel emotions of other people. She's aware of a struggle within herself, an inexplicable pull toward danger, but it isn't until she turns sixteen and meets the alluring Kaidan Rowe that she discovers her terrifying heritage and her willpower is put to the test. He's the boy your daddy warned you about. If only someone had warned Anna.
Forced to face her destiny, will Anna embrace her halo or her horns?
I had been waiting for so long to read this book and I was so excited when I was finally able to get it! The cover is gorgeous and the story is absolutely intoxicating. I'm eager to be able to get my hands on the next book and find out what happens to my new favorite characters.
Anna was a good female lead and her abilities were interesting. She was able to feel for everyone and I loved her relationship with her adoptive mother. There were definitely struggles for her because of her family tree but she was able to get through most of them. Kaidan was so awesome that he made it onto my book boyfriend list. :) But seriously, he was an interesting character and his abilities were interesting as well. :) I do want to learn more about him and his friends that are the same as him and Anna. I did like how we were able to learn a little about each character because it made me feel a little closer to each one. The tests that Anna will have to go through are not easy and I'm interested in seeing how it goes. And I want to see more Kaidan. :)
The story was intriguing and captivating and there wasn't a dull moment. There was some great chemistry between Anna and Kaidan and quite a few funny moments as well. The history of Anna's parents and of the Fallen Angels and their children was intriguing as well. I did not want to put down this book and I'm pretty sure I read it almost non stop. If you've been wanting to read this book and haven't been able to, then I suggest you pick it up soon. It is definitely worth it.
Vanessa