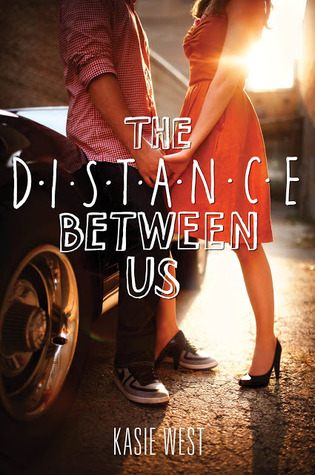 Published July 2nd, 2013 by Harper Teen
Summary from Goodreads.com:
Seventeen-year-old Caymen Meyers studies the rich like her own personal science experiment, and after years of observation she's pretty sure they're only good for one thing—spending money on useless stuff, like the porcelain dolls in her mother's shop.
So when Xander Spence walks into the store to pick up a doll for his grandmother, it only takes one glance for Caymen to figure out he's oozing rich. Despite his charming ways and that he's one of the first people who actually gets her, she's smart enough to know his interest won't last. Because if there's one thing she's learned from her mother's warnings, it's that the rich have a short attention span. But Xander keeps coming around, despite her best efforts to scare him off. And much to her dismay, she's beginning to enjoy his company.
She knows her mom can't find out—she wouldn't approve. She'd much rather Caymen hang out with the local rocker who hasn't been raised by money. But just when Xander's attention and loyalty are about to convince Caymen that being rich isn't a character flaw, she finds out that money is a much bigger part of their relationship than she'd ever realized. And that Xander's not the only one she should've been worried about.
Review:
Before reading this book I had only read one other Kasie West book. That book was
On The Fence
and I enjoyed it so much. Some of you may know that I'm not always in the mood for contemporary and it's hard for me to find some that I really enjoy. Well Kasie West has managed to write two YA contemporaries that I have absolutely devoured.
The Distance Between Us
was such a great summer read that had such relate-able characters. I actually read this in one sitting because it flowed so easily!
Caymen was such an awesome teenage girl. She doesn't live a rich life and helps her mom with the doll store that they own. Caymen really has a talent for sarcasm and it was so funny to watch her interact with others. She has a dry sense of humor but she knows it. Xander was another charming character and I loved the interactions between the two of them. It was great to be able to learn a little bit about him and watch how he didn't seem to fit the rich stereotype.
The story itself was pretty interesting and wasn't hard to follow at all. I enjoyed how the characters were able to learn more about each other. Especially how Caymen was able to learn that not everyone fits into the stereotype. This book just left me with such good feelings and Xander and Caymen had a smile on my face every time they interacted. This is definitely a good summer read that is quick and entertaining! Check it out now!
*In case you were confused, the four hearts at the bottom of this post represent the rating I have given this book!*
Vanessa