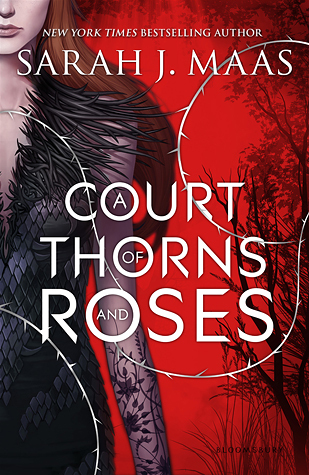 A Court of Thorns and Roses (A Court of Thorns and Roses #1)
By Sarah J Maas
Published May 5th, 2015 by Bloomsbury Children's
416 pages
5 stars - Absolutely Intoxicating!!
Summary from Goodreads.com:
A thrilling, seductive new series from
New York Times
bestselling author Sarah J. Maas, blending
Beauty and the Beast
with faerie lore.
When nineteen-year-old huntress Feyre kills a wolf in the woods, a beast-like creature arrives to demand retribution for it. Dragged to a treacherous magical land she only knows about from legends, Feyre discovers that her captor is not an animal, but Tamlin—one of the lethal, immortal faeries who once ruled their world.
As she dwells on his estate, her feelings for Tamlin transform from icy hostility into a fiery passion that burns through every lie and warning she's been told about the beautiful, dangerous world of the Fae. But an ancient, wicked shadow grows over the faerie lands, and Feyre must find a way to stop it . . . or doom Tamlin—and his world—forever.
Perfect for fans of Kristin Cashore and George R. R. Martin, this first book in a sexy and action-packed new series is impossible to put down!
Review:
WOW. I feel as if there are no words to describe how I felt while reading this book, finishing this book, and still thinking about this beautiful book. The content is beautiful but the outside is beyond words as well. Look at that cover! I absolutely love the red and black and it is even better in person!!
Stick with me as I get through this review because this is currently one of my favorite books of this year! The feels that this book brings out are beyond words but I will try my best.
A Court of Thorns and Roses is a loose retelling of the Beauty and the Beast. Beauty and the Beast is one of my favorite fairy tales and Disney adaptations. When I found out that Sarah J Maas was doing a retelling I was absolutely intrigued and beyond excited. Sarah J Maas is such a talented author and is brilliant at creating characters that are, at times, flawed but so endearing and unforgettable. I read Throne of Glass earlier this year and was beyond pleased with it and the two other books in the unfinished series. While ACOTAR is definitely different from ToG, it isn't any less beautiful!
Feyre is a mortal and she lives in a poor village right outside of the land that is ruled by the High Fae. She is the main source of food and income for her family and living in poverty has definitely taken a toll on her. She is hungry, tired, bitter and angry at all Fae in the beginning of this book and she has every right to be. Not all Fae are nice creatures and their kind had once ruled the world as well as the mortals living in it. There are no happy stories of the Fae and Feyre believes them until one day she actually meets one.
Feyre was such an awesome character and I really enjoyed watching her grow in the time span of the book. She learned so much about herself as well as the Fae and her family. She learned just how strong she really is because she had to go through some major difficulties. Feyre is definitely flawed and, at some points, a little too stubborn. There were times when she didn't listen to the advice of those around her and ended up getting into some trouble, but she was a fantastic character nonetheless.
Tamlin and Lucien are two very big reasons why I absolutely fell in love with this book! I won't say too much about them but they are such amazing characters and I loved watching them grow as well. I cannot wait to read more about them! Also, Tamlin is absolutely swoon worthy! ;)
Feyre's family members are more fleshed out than I thought they would be and I was definitely pleased with it. I hope to learn more about them in the books to come!
The setting was definitely magical and Maas has such a way with words! I felt as if I was really there with the characters. The history of the High Fae and the mortals is definitely interesting. There was suspense, action, romance, and funny moments throughout the book and Maas knows how to execute each one perfectly! The romance in this book is steamier than Maas' other books and might be described as New Adult by some.
The ending had my heart pounding and I was on such an emotional roller coaster. I feel as if I have rambled on throughout this review but I cannot find enough to say about this book! If you liked Cruel Beauty by Rosamund Hodge as well as The Throne of Glass series by Sarah J Maas, then you will definitely want to check this out. If you haven't read either of those, then you definitely should! And if you haven't read any other books by Maas, then let this be your first!! I cannot rave enough. :)
Vanessa