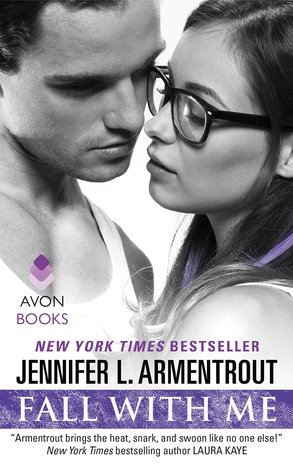 Fall with Me (Wait for You #4)
By Jennifer L. Armentrout
Published March 31st, 2015 by Avon
Eleven months ago, bartender and weird-shirt-wearing extraordinaire Roxy and Officer Reece Anders had a one night stand. Well, kind of. She's been in love with him since she was fifteen, and he wishes that night they shared never happened. She's sworn him off forever, but the past and future collide, forcing her to rely on the one man who broke her heart not once, but twice.
Her best friend since birth has been in a long-term care facility since he became a victim of a hate crime years ago, and the person who put him in there is out of prison and wanting to make amends with him and Roxy. She's not sure she has room for forgiveness in her and when she begins to receive frightening messages and is on the receiving end of escalating violence, she thinks she knows who is to blame. The man who already destroyed one life already.
But Reece isn't convinced. The threats are too personal, and even if Roxy doesn't believe him, he's not willing to let anyone hurt her. Including himself. He's already messed up more than once when it comes to Roxy and he's not going to let history repeat itself.
Review:
Jennifer L. Armentrout is such an incredible author. She has once again managed to make me fall in love with her characters. Fall with Me is the fourth book in the Wait for You companion series. The companion series is a New Adult series and Armentrout proves that she is able to write New Adult as well as Young Adult. I would recommend reading them in order because I think it might make a little more sense if you did since the characters tend to make appearances.
I have to admit that I forgot that I hadn't read the third book after I read this and was a little confused at the mention of some characters. Other than that, I really enjoyed this one!
Roxy was such an interesting and quirky character. I loved her shirts and her attitude. She seemed like a pretty cool person to be friends with and she was pretty short so I felt a connection with her there. :) She had gone through a traumatic experience and I felt for her. Reese was another guy that it was pretty easy to fall for. He isn't my absolute favorite but I liked him well enough. :) I especially enjoyed the bantering between the two.
This book was a little different from the previous ones in the series because it had a small mystery in it. There are murders going on in the town and some weird things happen to Roxy's apartment. I actually thought that it was just enough mystery to not take away from the contemporary feel but still add something new. The ending was a little suspenseful and exciting as well as kind of sad. Another win for Jennifer and I can't wait to read about the other characters in the next book!
*The four hearts below this post represent my rating of the book. Instead of writing out 4 stars I have decided to use hearts to portray my rating!*