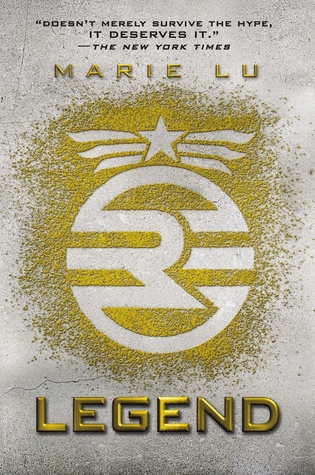 Published April 16th, 2013 by Speak
5 stars - AMAZING!!
From different worlds, June and Day have no reason to cross paths...
Until June's brother is murdered, and Day becomes the prime suspect.
In a shocking turn of events, the two uncover what has really brought them together, and the sinister lengths to which their country will go to keep its secrets.
Quote - "Each day means a new twenty-four hours. Each day means everything's possible again. You live in the moment, you die in the moment, you take it all one day at a time."
Review:
This book has been out for quite a few years and up until this month I had not picked it up. I hadn't even thought about reading it! Can you believe this? I'm not sure why I thought I wouldn't like it. Maybe I just wasn't that into Dystopian back then? My two younger brothers read this and immediately started asking me to read it as well. They were in love with the series and were so excited. I knew then that I couldn't put it off any longer. I am so glad that my brothers got me to read this because I have definitely been missing out on some awesome characters!
So,yes, I gave Legend 5 stars. This book didn't take me too long to get into. In fact, I was drawn in at the first page. Day and June are both awesome characters to read through. I loved how they had different voices and each brought something to the story. Legend takes place in Los Angeles, California in the Republic of America many many years in the future. The United States is divided into the Republic of America and the Colonies. Our main characters reside in the Republic where life is nowhere near the American dream for most.
June is the Republic's prodigy. She scored a perfect on her Trials which made it so that she would live the "best life possible." She's incredibly attentive and spots so many details that many wouldn't. I loved reading all the details that she was able to bring to light about the areas and people around her. She's always loved the Republic and she believed in what she was fighting for. Her dream was to be in the military for the Republic and fight against the Colonies and Patriots until her older brother, Metias, is found dead in a dark alley. Everyone is telling her that the murderer is Day, the most wanted criminal in the Republic, and so she goes after him. She leads the investigation and tries to catch Day so her brother's death can be brought to justice. But once she's on the street June learns things about the Republic's poor and less fortunate citizens. She also learns more about her brother's death and finds out that not everything or everyone is who they seem.
Day is the most wanted criminal and he's good at what he does. He's fast and agile as well as smart. After failing his Trials Day ends up where all the other kids who fail end up. But he ends up escaping and hiding on the streets with an orphan girl that he met when he was younger, Tess. Together they try to take care of Day's family while not getting caught. It's just the two of them until they find June and then everything changes. Day was such an interesting character, just like June. He has an older and younger brother that he loves and would do anything for. Reading about his past and his family has you feeling for him and hoping things turn out right. But, like most dystopians, a happy ending isn't that easy to get your hands on.
I absolutely loved the characters in this book (most of them, at least). There were a few characters that I had suspicions about and I'll have to see if they are true in the next two books. The way the United States turned out was pretty interesting. There are plagues going around and the Trials determine your future. Good scores get you into a higher education and better career with better resources, while bad scores put you into a working middle class of sorts. I always love reading about the different ways in which America can change and Legend was no exception.
So, yes, I am definitely glad that I finally read this book! If you haven't read it yet, then I would definitely recommend that you do. Fans of dystopian will love this trilogy for sure. :)
Vanessa