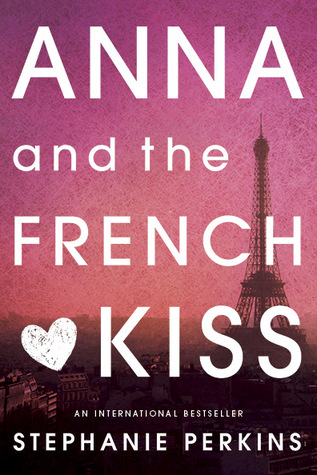 Anna and the French Kiss (Anna and the French Kiss #1)
By Stephanie Perkins
Published July 16th, 2013 by Speak
372 pages
Paperback
5 stars - AMAZING!!
Quote:
"For the two of us, home isn't a place. It is a person. And we are finally home."
Synopsis from Goodreads.com:
Can Anna find love in the City of Light?
Anna is happy in Atlanta. She has a loyal best friend and a crush on her coworker at the movie theater, who is just starting to return her affection. So she's less than thrilled when her father decides to send her to a boarding school in Paris for her senior year.
But despite not speaking a word of French, Anna meets some cool new people, including the handsome Étienne St. Clair, who quickly becomes her best friend. Unfortunately, he's taken —and Anna might be, too. Will a year of romantic near misses end with the French kiss she's waiting for?
Review:
This was such an amazing read! I'll be honest, I don't usually seek out contemporary reads. I enjoy contemporary YA but I much prefer paranormal, fantasy, and science fiction. Basically anything that takes place in a world unlike our own. But I absolutely love it when I find a contemporary novel that I really enjoy. Anna and the French Kiss was a book that I had been neglecting to read. I think it was all the hype that kept me away from it. For some reason I ended up borrowing it from the library as well as the other two companion books. It took no time at all for this book to grab my attention. I had so much fun reading it and I was just so in love with the story! I cannot believe that it took me this long to read it!
Anna and the French Kiss is such an amazing contemporary. It is a realistic setting that Stephanie Perkins has made feel magical. It was such an experience to read because of the characters. I adored St. Clair and Anna as well as the rest of the group. Each character had his or her's own personality and I loved each one. The relationship between St. Clair and Anna was my favorite part of the book. They were friends first and it was great to see two people have so much fun together. Aside from watching their relationship grow it was also nice to see them grow as individuals. Anna and St. Clair grew up and figured out who they are and what they want to do with their lives.
I'm having a difficult time correctly putting into words how I feel about this book and why you should read it. So I'm just going to say that it is now one of my favorite contemporary YA's. The story is a mix of fun times as well as some touching and serious moments. Stephanie Perkins brings readers to a magical setting in Paris with lively characters that won't soon leave the mind. I'm definitely looking forward to reading more from her! Check this out now if you haven't!
Vanessa