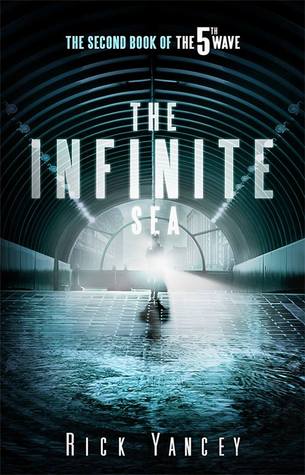 The Infinite Sea (The Fifth Wave #2)
Published September 16th, 2014 by Putnam Juvenile
300 pages
5 stars - Out of this World!
How do you rid the Earth of seven billion humans? Rid the humans of their humanity.
Surviving the first four waves was nearly impossible. Now Cassie Sullivan finds herself in a new world, a world in which the fundamental trust that binds us together is gone. As the 5th Wave rolls across the landscape, Cassie, Ben, and Ringer are forced to confront the Others' ultimate goal: the extermination of the human race.
Cassie and her friends haven't seen the depths to which the Others will sink, nor have the Others seen the heights to which humanity will rise, in the ultimate battle between life and death, hope and despair, love and hate.
Review:
Oh. My. Gosh. Rick Yancey is awesome! Seriously. The Infinite Sea was amazing and even better than the first! I'm so glad a movie is being made because this is some good stuff. :) It really didn't take me that long to read this book but that could be because it was shorter. That was probably the only thing that I'd complain about as well.
What did I like? I really loved learning more about the thoughts of the aliens. I also loved learning more about Ringer and Poundcake. There was so much character development with almost all of the characters and it's great to be able to know them better. There is more depth to them and now I'm able to understand where they are coming from. There are a few new characters that you'll either love or hate as well.
Then there is the fact that Yancey really made me think. I was thinking about humanity and aliens and it was just a really great time. :) Seriously though, I think that this series really makes one think about what humanity would be like with aliens involved. Or what one would do in that predicament. The ending was such a cliff hanger and I really need more! I cannot wait till the next book comes out. All the secrets that were shared and the twists were pretty Awesome! Check it out now!
Vanessa