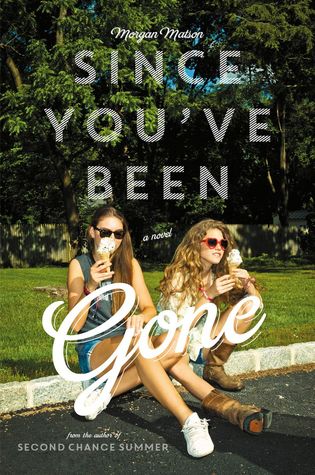 Since You've Been Gone
By Morgan Matson
Published May 6th, 2014 by Simon and Schuster
449 pages
5 stars - Such A Great Read!!
The Pre-Sloane Emily didn't go to parties, she barely talked to guys, she didn't do anything crazy. Enter Sloane, social tornado and the best kind of best friend—the one who yanks you out of your shell.
But right before what should have been an epic summer, Sloane just… disappears. No note. No calls. No texts. No Sloane. There's just a random to-do list. On it, thirteen Sloane-selected-definitely-bizarre-tasks that Emily would never try… unless they could lead back to her best friend.
Apple Picking at Night?
Okay, easy enough.
Dance until Dawn?
Sure. Why not?
Kiss a Stranger?
Wait… what?
Getting through Sloane's list would mean a lot of firsts. But Emily has this whole unexpected summer ahead of her, and the help of Frank Porter (totally unexpected) to check things off. Who knows what she'll find?
Review:
For some reason I didn't think that I would really enjoy this book. Don't ask me why, it was just a feeling that I got. And it was obviously a feeling that I didn't need to listen to! This was such a great read and I really should have known because I loved Matson's Second Chance Summer. This book kept me interested from the very beginning and the characters are completely love-able and relate-able!
Emily's best friend Sloane is gone and Emily has no idea where she went. It seems as if Sloane's family just picked up and left. The only thing left is a sort of to do list that Sloane wrote out. 13 tasks that Emily can complete during the summer and not all of them seem easy. But there is a problem because Sloane was Emily's only friend. It was always just Sloane and her friend. Now Emily will finally grow into herself and figure out who she is. And she does! Emily was such a great character to watch grow throughout the story. She was nervous at first and she wasn't that great at making new friends (something that is completely relate-able). But she did and she conquered so many fears. I really felt proud of Emily in a way once the book was finished.
Frank Porter is an unexpected friend for Emily. He isn't someone that Emily would have expected to know her or to want to hang out with her, but he does. Frank ends up helping Emily with her list and we get to see a different side of both of them. I really enjoyed getting a look at Frank's life and his likes. I also enjoyed the other characters that were introduced, like Frank's best friend and Emily's new girl friend. The four of them work all summer trying to get things crossed off the list.
Since You've Been Gone is a great summer read but I also think it's a book that can be read no matter the weather. It is light in a way while being full of growth. The characters grow and learn more about themselves but they have fun while doing it. I think that Matson did a fantastic job at creating a relate-able story for someone of any age! I really look forward to reading more of her books because it is obvious that she knows what she is doing. I encourage you to check this out if you haven't yet, I don't think you'll regret it!!