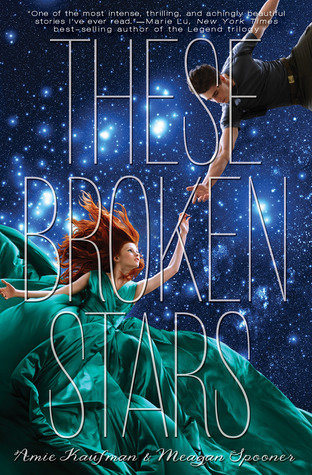 These Broken Stars (Starbound #1)
By Amie Kaufman and Meagan Spooner
Published December 10th, 2013 by Disney Hyperion
374 pages
4 stars - Great Read!
Luxury spaceliner Icarus suddenly plummets from hyperspace into the nearest planet. Lilac LaRoux and Tarver Merendsen survive -- alone. Lilac is the daughter of the richest man in the universe. Tarver comes from nothing, a cynical war hero. Both journey across the eerie deserted terrain for help. Everything changes when they uncover the truth.
The Starbound Trilogy: Three worlds. Three love stories. One enemy.
Review:
These Broken Stars
is a book that I have been wanting to read for awhile and now that I have I'm not too sure how I feel about it. I really did enjoy the book and the characters but I wouldn't say that this is one of my top favorites. I feel like it was just very hyped up for me and then it didn't meet my standards. Nonetheless, I still give this book 4 out of 5 stars because the plot and characters were pretty interesting.
This is a science fiction love story that some have called Titanic is space. But this book isn't solely based on romance. This is a story of much more. These characters are stranded on an unfamiliar planet that is empty save for them and a fallen ship. They have to learn to trust each other and survive with each other in an environment that they are unused to.
Lilac LaRoux is a princess of sorts and the daughter of the richest man in the galaxy. She is seen as spoiled and bratty - only thinking of the latest gossip and herself. But a look into Lilac's head and readers realize how unlike that girl she really is. She's different and see's people differently. She has had to learn to be this way but while on this planet she learns more about herself.
Tarver Merendsen is a Major in the military and well known for being a war hero. He's not from the high society that Lilac is from but she still manages to catch his eye. He lived a different and simple life compared to Lilac but both of them must learn to work together if they want to survive.
I really enjoyed reading through both perspectives and watching both characters grow individually and as friends. They don't really get along at first but they soon realize that they both need each other. I loved how their relationship progressed and how they were able to see more about each other than they did before.
I can't say that I have read a book like this before and for that I applaud Kaufman and Spooner! The whole hyperspace and terraforming topic was very interesting. I'm glad that the next book lets readers learn more about the colonists on the terraformed planets because that was something that I had been wondering about. This book focuses more on what this unfamiliar planet holds and how Lilac and Tarver grow as individuals. The ending was kind of surprising but also kind of fast. There was something that was missing but I'm not sure what it was. Nonetheless, this was an enjoyable read and I would recommend to science fiction fans and anyone interested in a different and captivating read. :)
Vanessa