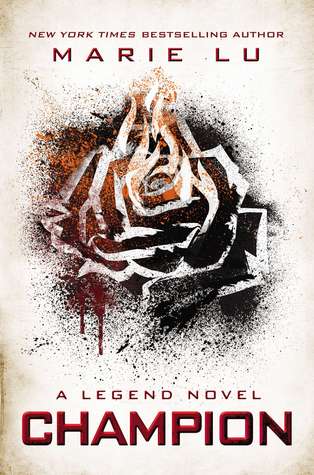 Champion (Legend #3)
By Marie Lu
Published November 5th, 2013 by Putnam Juvenile
369 pages
5 stars - Such an AMAZING conclusion!!
*WARNING!! - This is the LAST book in the trilogy and there will be spoilers for the first two books in this review! Do not read if you have not read the first two books!!*
He is a Legend.

She is a Prodigy.

Who will be Champion?

June and Day have sacrificed so much for the people of the Republic—and each other—and now their country is on the brink of a new existence. June is back in the good graces of the Republic, working within the government's elite circles as Princeps-Elect, while Day has been assigned a high-level military position.

But neither could have predicted the circumstances that will reunite them: just when a peace treaty is imminent, a plague outbreak causes panic in the Colonies, and war threatens the Republic's border cities. This new strain of plague is deadlier than ever, and June is the only one who knows the key to her country's defense. But saving the lives of thousands will mean asking the one she loves to give up everything.

With heart-pounding action and suspense, Marie Lu's bestselling trilogy draws to a stunning conclusion.
Review:
As I type this review I continue to be overwhelmed by the feelings that reading this book and trilogy have stirred up in me. I finished this series just a few hours ago and I honestly have no words to describe how I'm feeling. All I know is that this trilogy has to be one of my new favorite series let alone dystopian series. Each book is a 5 star book for me and the characters will forever be with me. I laughed, cried, and huffed in frustration. Marie Lu really knew what she was doing when she wrote
Champion
and the trilogy as a whole.
There is so much that has gone on throughout the first two books and Champion is no exception. There is a ton of action and suspense. The character growth throughout this book is also, I feel, tremendous. I think what really grabbed me throughout this trilogy was the fact that these characters leave an impression. Day, June, Eden, Anden, Tess, the Patriots, even Ollie! They all contribute something to the story.

This book picks up around eight months after Prodigy left us with broken hearts (at least mine was broken). Day has Eden back and while Eden is getting better, Day is not. June is in training to be the Princeps-Elect and learning to work in a more political position than she's used to. Day and June have not seen each other during these months but then something comes up that brings them back together. The Colonies are planning something and it the Republic is not safe from their plans.

I don't want to say too much and spoil things in case there is someone out there that hasn't read these amazing books yet. Old characters that we love and hate are brought back as well as a few new ones. Day and June really figure out who they are in this conclusion and I loved that the most. Anden and Tess are other characters that grow and mature as well. The characters and readers learn more about the Republic and the Colonies as well as the other countries. We learn why The United States broke apart and we see how things might come to change.

The ending of this book completely brought me to tears. My younger brother had already warned me that the ending was kind of sad but I was still surprised by it. Don't get me wrong, I think that the ending made sense but I was still heartbroken in a way. I was even just sad to have to say goodbye to these new friends that I had made. To the characters that I fell in love with and that I learned to love. This last book was definitely a roller coaster of emotions for me but I am so happy that I was able to experience them. If you haven't read this book yet, then you are definitely missing out! From someone who waited so long to read the series, I really recommend you check it out.

Vanessa