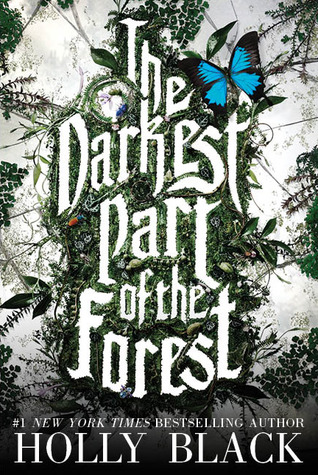 The Darkest Part of the Forest
By Holly Black
Published January 13th, 2015 by Little Brown Books for Young Readers
328 pages
3.5 stars - Pretty Good Book!
Children can have a cruel, absolute sense of justice. Children can kill a monster and feel quite proud of themselves. A girl can look at her brother and believe they're destined to be a knight and a bard who battle evil. She can believe she's found the thing she's been made for.
Hazel lives with her brother, Ben, in the strange town of Fairfold where humans and fae exist side by side. The faeries' seemingly harmless magic attracts tourists, but Hazel knows how dangerous they can be, and she knows how to stop them. Or she did, once.
At the center of it all, there is a glass coffin in the woods. It rests right on the ground and in it sleeps a boy with horns on his head and ears as pointed as knives. Hazel and Ben were both in love with him as children. The boy has slept there for generations, never waking.
Until one day, he does…
As the world turns upside down, Hazel tries to remember her years pretending to be a knight. But swept up in new love, shifting loyalties, and the fresh sting of betrayal, will it be enough?
Review:
Let me start off by saying that I haven't read too many of Holly Black's books but those that I have read I have enjoyed. I have read
The Spiderwick Chronicles
and
The Coldest Girl in Coldtown.
The books were magical and interesting to me right from the start.
The Darkest Part of the Forest
was one of my anticipated reads this year and the synopsis paired with the cover grabbed me right away. Sadly, the beginning of the book didn't pull me in as much as I would have liked it to. I'm not saying that the book wasn't good because it definitely started picking up near the end. It just seemed like something was missing. Maybe it is because this is a stand alone book and the characters and story could have been explained more with another book.
Despite a few issues that I had with the book, it is still an interesting and fascinating read. I have always been interested in books having to do with the Fae and Holly Black didn't disappoint in bringing them to life. They were creepy and fascinating all at once. The townspeople were even a little different. Especially Hazel and Ben's parents. The parents are more artistic and definitely fit in with the world of the Fey. Hazel and Ben are both different as well and have always been involved with the strange world.
The characters were interesting and I really enjoyed the relationship between Hazel and Ben. They almost always shared everything and they really did have a great relationship for siblings. Hazel was not who she wanted to be in the beginning but by the end she figures out what she wants and who she is. Ben does the same thing as well. I love when there is character growth in any book but especially a stand alone.
The ending of the book was where all the action kicked into gear. It was suspenseful and kind of creepy. But it was also gripping and I didn't want to put the book down. I HAD to find out what happened to the characters. All in all, The Dark Part of the Forest was an intriguing and fascinating read. There were a few bumps along the way but once I really got into it, I couldn't put it down. Check it out if you love a good fantasy!