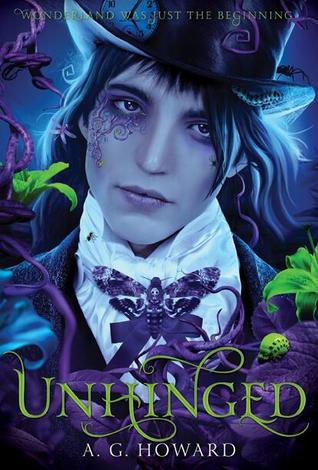 Published January 7th, 2014 by Amulet Books
5 stars - AMAZING!
*WARNING - MAY INCLUDE SPOILERS FOR SPLINTERED!! PROCEED WITH CAUTION!*
Alyssa Gardner has been down the rabbit hole and faced the bandersnatch. She saved the life of Jeb, the guy she loves, and escaped the machinations of the disturbingly seductive Morpheus and the vindictive Queen Red. Now all she has to do is graduate high school and make it through prom so she can attend the prestigious art school in London she's always dreamed of.
That would be easier without her mother, freshly released from an asylum, acting overly protective and suspicious. And it would be much simpler if the mysterious Morpheus didn't show up for school one day to tempt her with another dangerous quest in the dark, challenging Wonderland—where she (partly) belongs.
As prom and graduation creep closer, Alyssa juggles Morpheus's unsettling presence in her real world with trying to tell Jeb the truth about a past he's forgotten. Glimpses of Wonderland start to bleed through her art and into her world in very disturbing ways, and Morpheus warns that Queen Red won't be far behind.
If Alyssa stays in the human realm, she could endanger Jeb, her parents, and everyone she loves. But if she steps through the rabbit hole again, she'll face a deadly battle that could cost more than just her head.
I read Splintered last year and I was excited to be able to visit the world of wonderland once again.
A.G. Howard is such an awesome author!! The Splintered trilogy is one of my absolute favorites in the whole world.
But really. Howard is able to create a crazy and exciting world that no one would be able to resist. Her characters are complex and unique. This twisted world of Wonderland is one that everyone should read!
Alyssa has been in Wonderland once and was crowned Queen but decided to leave that crazy world behind and stay in reality with her best friend and boyfriend, Jeb. Unhinged picks things up a year after all the chaos and excitement that took place in Splintered. Alyssa thought she would be able to live a normal and sane life but she soon realizes that Wonderland will not leave her alone (Morpheus included). Alyssa learns quite a bit about herself in Unhinged and she learns more about her Wonderland and the people close to her. Jeb is back as well and is slowly climbing the ladder of success with his art. He cannot remember what happened on his trip to Wonderland with Alyssa but he does know that his feelings for her have progressed. Morpheus is in the real world now and causing trouble as usual but he really needs Alyssa's help because Wonderland is definitely not how she left it. I won't spill too much but just know that the relationship between Alyssa and Morpheus progresses throughout this book as well.
There is so much that we learn throughout this sequel and it is exciting and interesting. We learn more about Alyssa's mom as well as her father. We learn more about the enemies out there and Alyssa's future. There is much going on and the ending is quite the cliffhanger but you are all in luck because the last book is out now! I'll admit that I finished this book in two sittings and immediately moved on to the last book. The characters and the feelings that they give are incredible. Reading Howard's books of Wonderland is like being transported to world itself. These books are captivating and I cannot give them enough praise. Check it out now!!
Vanessa