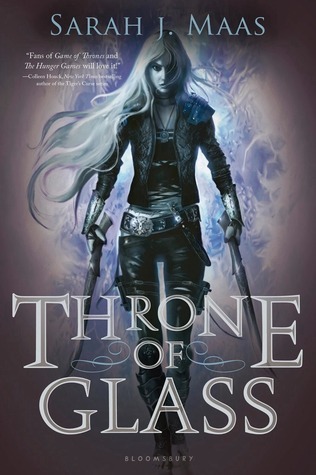 Throne of Glass (Throne of Glass #1)
Published May 7th, 2013 by Bloomsbury USA Childrens
In a land without magic, where the king rules with an iron hand, an assassin is summoned to the castle. She comes not to kill the king, but to win her freedom. If she defeats twenty-three killers, thieves, and warriors in a competition, she is released from prison to serve as the king's champion. Her name is Celaena Sardothien.
The Crown Prince will provoke her. The Captain of the Guard will protect her. But something evil dwells in the castle of glass--and it's there to kill. When her competitors start dying one by one, Celaena's fight for freedom becomes a fight for survival, and a desperate quest to root out the evil before it destroys her world.
I have heard so many good things about this series and it has taken me way too long to start reading the books. Right when the New Year started I remedied that. Throne of Glass is the first book that I have read this year and I am definitely glad that it is. Sarah J. Maas knows how to write an incredible world that is similar and yet different from our own. Throne of Glass grabbed my attention and didn't let go! I am just now starting the second book and cannot wait to learn more about these amazing characters.
Celaena is an AWESOME female lead! She is incredibly strong and brave in more way than one. She is an assassin and I have to admit that I love reading about female assassins. :) Celaena is more than just an assassin though. She has a big heart and can be kind and caring when she wants to be. She is also supportive and true to her beliefs and I admire that in a character. I enjoyed reading about her and Chaol and Dorian. Chaol is the Captain of the Guard and Dorian is the Crown Prince but they are both close friends. Dorian is not who everyone expects him to be. He isn't spoiled or rude but caring and a good friend. He's also pretty swoon worthy ;). AND...HE LIKES TO READ!! That is a pretty big plus in my book, lol. Chaol is such an awesome character as well. He doesn't really trust Celaena because she is a pretty skilled and dangerous assassin. But Chaol is loyal and caring as well. He looks out for Dorian and he even likes to read a bit too! Watching all three characters interact makes for a great time. I love the witty banter between each of them!
Besides the characters there is also the interesting story line and the mystery that the characters face. There is an evil in the castle and Celaena has to work to survive. Besides the unknown evil there is also the competition that Celaena must fight in to win her freedom. The fight scenes were some of my favorite parts because Maas wrote them in a way that I could see what was going on. They were interesting and suspenseful and I loved cheering on Celeana. There is action, suspense, mystery, romance and few sad moments all within the pages of this amazing book. The characters slowly grow and try to figure out who they are and who they want to become. I cannot wait to learn more about them and any new characters that are introduced. If you haven't checked it out, then do it soon!!
Vanessa