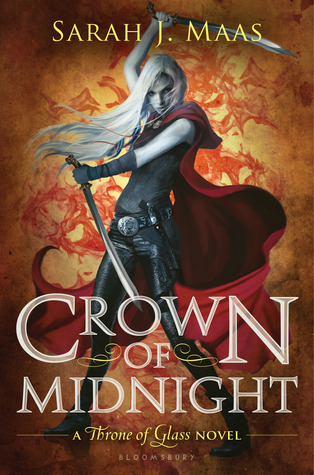 Crown of Midnight (Throne of Glass #2)
Published August 27th, 2013 by Bloomsbury USA Childrens
5 stars - AN AWESOME SEQUEL!
!
"A line that should never be crossed is about to be breached.
It puts this entire castle in jeopardy—and the life of your friend."
From the throne of glass rules a king with a fist of iron and a soul as black as pitch. Assassin Celaena Sardothien won a brutal contest to become his Champion. Yet Celaena is far from loyal to the crown. She hides her secret vigilantly; she knows that the man she serves is bent on evil.
Keeping up the deadly charade becomes increasingly difficult when Celaena realizes she is not the only one seeking justice. As she tries to untangle the mysteries buried deep within the glass castle, her closest relationships suffer. It seems no one is above questioning her allegiances—not the Crown Prince Dorian; not Chaol, the Captain of the Guard; not even her best friend, Nehemia, a foreign princess with a rebel heart.
Then one terrible night, the secrets they have all been keeping lead to an unspeakable tragedy. As Celaena's world shatters, she will be forced to give up the very thing most precious to her and decide once and for all where her true loyalties lie...and whom she is ultimately willing to fight for.
Review:
Wow. I cannot begin to explain the FEELS that I had while reading this book! Just know that there were many of them and reading this book is like being on an emotional roller coaster. I don't even know how to begin to explain what went on in this sequel.
Crown of Midnight is definitely more action packed than Throne of Glass. There are also more violent and bloody scenes as well as romantic scenes. Celaena is also definitely more bad-ass in this book and shows the other characters and readers just what being an Adarlan's assassin means. She goes through quite a bit throughout the story and she keeps on growing. I noticed that Celaena, as well as the rest of the characters, act completely human. They make mistakes throughout this book and I found myself trying to tell them to fix them. :) These characters are stubborn though and they did what they felt was right. I loved learning more about Chaol and Dorian. We didn't get to learn a ton about them in the first book but we definitely get to see different sides of them here. Nehemia continues to be a great friend and such a brave women. Besides personal growth there is also the growth of relationships. Readers will see more of a relationship between Celaena and Chaol so I'll let you make of that what you want.
There are secrets that are uncovered and then there are more secrets made. There are new dangers in the castle as well as outside of it and no one is quite sure where someone's allegiances are. The end is very action packed and surprising and tear jerking,(at least for me it was). I just didn't see the end coming in a way. I didn't see all this other information coming until it was right in front of my eyes. All I know is that I cannot wait to read the next book and to learn more about this awesome world! If you haven't read it yet, then you are definitely missing out!
Vanessa