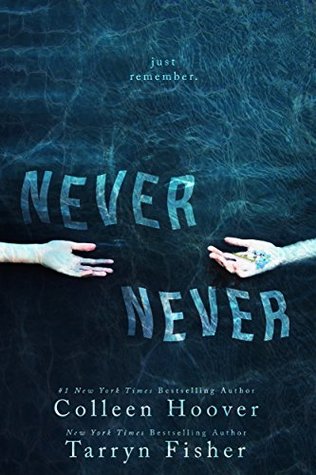 Never Never (Never Never #1)
By Colleen Hoover and Tarryn Fisher
Published January 7th, 2015 by Hoover Link
140 pages
5 stars - AWESOME!
Best friends since they could walk. In love since the age of fourteen.
Complete strangers since this morning.
He'll do anything to remember. She'll do anything to forget.
Review:
I had not heard of this book before it was published but I started seeing authors and other readers tweeting about it. My attention was caught and I decided to check out what all the excitement was about. I am soo glad that I did! Never Never was amazing and has me wanting (needing) more! I love Colleen Hoover and I have read a few of her books but I haven't read anything of Tarryn Fisher's. They were both able to write so well though and I couldn't even tell there were two different authors.
This book is not that long and ends in such a big cliff hanger but it is totally worth it! The second part is supposed to be released in May so there is not that long to wait. I just can't even begin to explain how good this book was. It isn't what one would expect and there seems to be some supernatural thing going on but I'm not even sure about that.
The book starts off with Charlie coming to her senses in the middle of a hallway not knowing who she is or where she is at. She doesn't remember anything of her past or present. Silas and Charlie know each other (or so they are told) but they don't even remember each other. So they decide to figure out what is happening to them which is not an easy thing to do. Throughout the 140 pages Charlie and Silas learn things about themselves and each other.
I'm not going to say anymore because I think it'll be more exciting to learn everything else on your own. All I can say is that you won't regret trying this out!
Vanessa