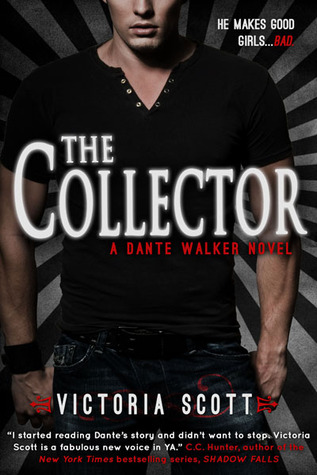 The Collector (Dante Walker #1)
Published April 2nd, 2013 by Entangled Teen
4 stars - Loved it!
He makes good girls...bad.
Dante Walker is flippin' awesome, and he knows it. His good looks, killer charm, and stellar confidence have made him one of hell's best—a soul collector. His job is simple: weed through humanity and label those round rears with a big red good or bad stamp. Old Saint Nick gets the good guys, and he gets the fun ones. Bag-and-tag.
Sealing souls is nothing personal. Dante's an equal-opportunity collector and doesn't want it any other way. But he'll have to adjust, because Boss Man has given him a new assignment:
Collect Charlie Cooper's soul within ten days.
Dante doesn't know why Boss Man wants Charlie, nor does he care. This assignment means only one thing to him, and that's a permanent ticket out of hell. But after Dante meets the quirky Nerd Alert chick he's come to collect, he realizes this assignment will test his abilities as a collector…and uncover emotions deeply buried.
Review:
I've been contemplating reading The Collector for a while now but I wasn't really sure if I would enjoy it. Dante sounded interesting and the whole idea of the book sounded interesting as well, but I didn't know if it would end up being a dud. So I finally bought it and finally gave it a try this weekend. I'm very glad to say that this book did not disappoint me! I really enjoyed reading through Dante's eyes because it isn't very common for a male to be the main character. Dante did a pretty fantastic job at it, not that he needs to add any more to his ego. I found myself laughing at quite a few of the things that Dante said but I really enjoyed watching him grow as a character throughout the book.
We are introduced to Dante and what he is in the beginning. He is a Collector for Hell and basically The Boss Man's right hand man. Dante is good, no superb, at what he does. Basically he is the best. His latest challenge is to try to collect Charlie Cooper's soul in ten days. I loved Charlie. She was a great female character and I wish that I could have been able to read through her perspective for a little, but what I saw through Dante's was great nonetheless. Charlie is a kind and intelligent young women. She wasn't the average female character in young adult books. In fact, she was pretty average, at least on the outside. She wasn't society's definition of "hot" and she didn't have the best fashion sense and she wasn't popular, but she was caring and giving. I don't want to give anything away but I will say that she had a rough past and I enjoyed reading about her. She also has some pretty cool friends that would help her out any day.
At first it was difficult to read Dante's thoughts about Charlie but then Dante started really seeing Charlie for who she was. It was really awesome to be able to watch Dante and even Charlie transform. Again I won't say much. The whole idea of the soul sealing was interesting and actually made sense. The book had a ton of humor, action, suspense, and some romance as well. I absolutely enjoyed the characters and I cannot wait for the next book! I really want to know what will happen to the characters! If you haven't read The Collector yet, then read it now! Do not wait!
Vanessa