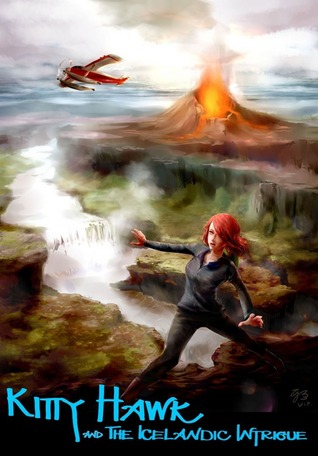 Kitty Hawk and The Icelandic Intrigue (Kitty Hawk Flying Detective Agency #3)
By Iain Reading
Published April 19th, 2013 by CreateSpace Independent Publishing Platform
304 pages
4.5 stars - Incredibly Intriguing!!
Following in the footsteps of her hero Amelia Earhart, Kitty Hawk sets off on an epic flight around the world and arrives in Iceland's capital city of Reykjavik where she finds herself immersed in a beautiful alien world of volcanoes, Vikings, elves and trolls. Before she knows it Kitty is plunged head first into an amazing adventure that sweeps her across a rugged landscape where humans and nature exist side-by-side in an uneasy truce and magical realms seem to lie just out of sight beneath the surface.
Kitty Hawk and the Icelandic Intrigue is the dazzling third installment of the Flying Detective Agency series featuring Kitty Hawk, an intrepid teenaged seaplane pilot with boundless curiosity and a knack for getting herself into - and out of - all kinds of precarious situations.
This is a perfect book to fire the imaginations of readers of all ages - armchair explorers and amateur detectives alike. From dangerous criminals and corrupt government officials to mystical beings and clashes with the elemental forces of nature, this book has it all. Come and join Kitty Hawk as she experiences the strange and extraordinary world of the Icelanders, and unravels the Icelandic Intrigue.
Review:
Iain Reading has done it again! Kitty Hawk and The Icelandic Intrigue was definitely intriguing. :) The cover is also captivating once again. I think that this book might be my favorite in the series and I'll tell you why. There is adventure, mystery, suspense and a great deal of action. This series continues to be a series that readers of any age can enjoy.
Kitty is still on her journey around the world and her next stop is Iceland. Once she arrives, she learns quite a bit about the culture, legends and much more. Kitty continues to be a fantastic female lead as well. She makes things interesting and I love some of the dialogue in her head.
Her trip to Iceland is full of adventure and mystery and a ton of action. There is probably more action in this book than the other two and I loved that. Kitty seems to be pretty good at getting herself into tough situations that are kind of dangerous, but she is also great at getting herself out of them. She has run ins with corrupt government officials, an erupting volcano and maybe even an elf. There is always something going on and that is what makes this book exciting.
I also loved how the reader is able to learn so much about the culture of the people of Iceland. Everything I learned was so interesting and I very much enjoyed the fact about Iceland's literacy rate. :) This book is also a little different from the previous two because there is some talk about elves and trolls. Nonetheless, this book was, yet again, a great read. I definitely enjoy learning new useful facts while being interested at the same time. Some of the things I learned even coincided with what I was learning in my Environmental Science class. In fact, I knew about some of the things we were going to be learning before we learned them in class! This series really is a series for all ages and has something for everyone. If you haven't read the previous two books, then I suggest you do so. If you have and haven't read this book, then I suggest you read it soon! I can't wait for the next book and to be able to follow Kitty on her adventurous journey around the world!