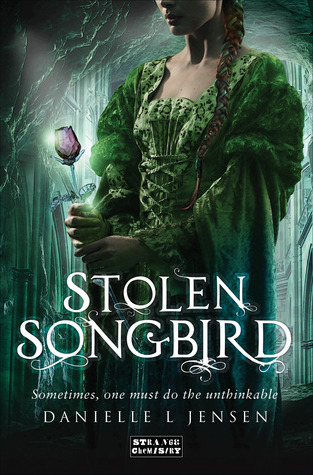 Stolen Songbird (The Malediction Trilogy #1)
By Danielle L. Jensen
Published April 1st, 2014 by Strange Chemistry
469 pages
5 stars - AMAZING!!
Synopsis from Goodreads.com:
For five centuries, a witch's curse has bound the trolls to their city beneath the mountain. When Cécile de Troyes is kidnapped and taken beneath the mountain, she realises that the trolls are relying on her to break the curse.

Cécile has only one thing on her mind: escape. But the trolls are clever, fast, and inhumanly strong. She will have to bide her time…
But the more time she spends with the trolls, the more she understands their plight. There is a rebellion brewing. And she just might be the one the trolls were looking for...
Review:
Wow. Just...wow. I have had this beautiful book sitting on my bookshelf for probably a year now! The masterpiece was sitting on my bookshelf when I could have been reading it! But, really.
Stolen Songbird
was such a fantastic read. I was in quite a reading slump when I finally decided to give this book a try. I had bought it because it sounded interesting and the ratings were pretty great, but I wasn't quite sure if it would be to my liking. I am so glad that all my fear was for nothing! I flew through this book so fast that it is safe to say that my reading slump is over.
I'm not sure if I can begin to explain why I loved this book, but I'll definitely try. Cecile and Tristan are my first reason. Those two characters were amazing in my opinion. I loved how strong Cecile was despite the fact that her whole life was taken from her. She was in a completely foreign place but she didn't ever give up hope that things would be alright in the end. Then there was Tristan. Sigh. ;) We get to read a few chapters here and there of Tristan's thoughts. I really enjoyed this because we got to learn more about Tristan and his motives. I won't say too much more for fear of spoiling. Oh, and let's not forget about the relationship between those two. :) Aside from them, there were a few other characters that were awesome as well. They were supportive friends and definitely humorous.
The whole story on how Trollus came to be was definitely interesting. I loved reading about the history of the trolls and realizing that I might know the secret of who they really are. This whole book really just caught my attention and didn't let go. I was intrigued by the characters and the setting. I wanted to know what the secrets that everyone was keeping were.
Overall, the whole book was such an enjoyable read and something that I really needed after days of not reading. I loved the characters and the world that Jensen created. I actually thought that this was a standalone book when I was reading it but I was glad to find out that this is actually a trilogy. I cannot wait to get my hands on the next book! I mean, that ending was something else and I absolutely have to know what happens next! Definitely pick up this book if you haven't yet. You will not regret it!!
Vanessa