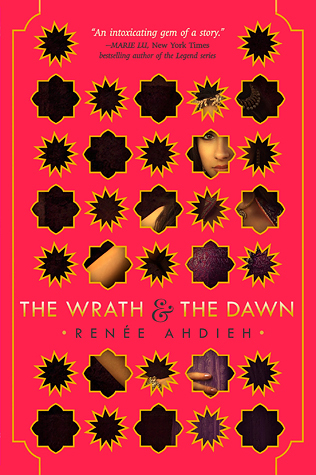 The Wrath & The Dawn (The Wrath and The Dawn #1)
Published May 12th, 2015 by
G.P. Putnam's Sons Books for Young Readers
388 pages
Summary from Goodreads.com:
A sumptuous and epically told love story inspired by
A Thousand and One Nights
Every dawn brings horror to a different family in a land ruled by a killer. Khalid, the eighteen-year-old Caliph of Khorasan, takes a new bride each night only to have her executed at sunrise. So it is a suspicious surprise when sixteen-year-old Shahrzad volunteers to marry Khalid. But she does so with a clever plan to stay alive and exact revenge on the Caliph for the murder of her best friend and countless other girls. Shazi's wit and will, indeed, get her through to the dawn that no others have seen, but with a catch . . . she's falling in love with the very boy who killed her dearest friend.
She discovers that the murderous boy-king is not all that he seems and neither are the deaths of so many girls. Shazi is determined to uncover the reason for the murders and to break the cycle once and for all.
Review:
It is going to be kind of difficult to type up this review because I am experiencing soo many feels right now. I'm not even kidding.
I had no doubt that I would enjoy this book. The summary is intriguing, the cover is absolutely gorgeous in person, and the ratings are very convincing. But I was still a little fearful that I might not enjoy it as much as everyone else.
I think I enjoyed it just as much as everyone else that has been raving about this beauty. :) I really cannot express how much I enjoyed this book and how much I did not want this book to end. I tried to read as slowly as possible but the words demanded to be read.
Shazi is a very tough girl. She is stubborn and set on the things that she wants. She wants revenge for what has happened to her best friend and she does what she has to do exact that revenge. Until feelings start getting in the way. Shazi is not always easy to get along with and that is obvious when reading about her relationships. She is strong willed and set in her ways. It was definitely entertaining to see the way she interacted with those around her, especially Khalid. Some may find her to be annoying at times because of her personality. I like the fact that Ahdieh has written a relatable and honest character that has normal faults and likes just like the rest of us.
I also very much enjoy the fact that Ahdieh created Khalid. He is a very intriguing guy and I cannot wait to learn even more about him. I loved the way that the relationship between him and Shazi grew. I definitely need more of Khalid and Shazi and I NEED IT NOW!! :)
The whole story line was so interesting though! I loved hearing the stories that Shazi told most nights. They definitely added another element to the book. I also found the reasons behind the killing of the girls interesting as well as all the characters that were involved. The Wrath and The Dawn is definitely a fantastic novel and such a great start the series. Not sure how long it will be but I'll take what I can get! The ending was such a cliff hanger and the little sneak peak of the next book was unbearable! :)
The book was everything that I didn't know I wanted. Romance, suspense, intrigue, action, and heartbreaking scenes. Intoxicating and un-put-down-able.
I gave 5 out of 5 hearts to this gem of a read! Pick it up soon if you haven't yet!
Vanessa