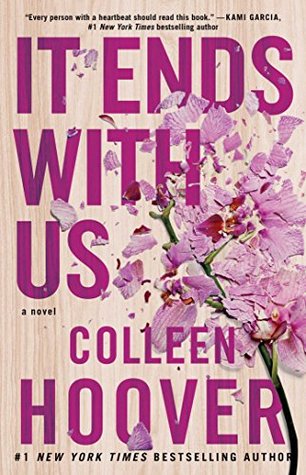 It Ends With Us
By Colleen Hoover
Published August 2nd, 2016 by Atria Books
384 pages
5 stars - An honest and heartfelt novel not to be missed.
Find at
Goodreads
Amazon
Barnes & Noble
Review:
What can I say about It Ends With Us? Honestly I can't say enough good things about this book. There are probably a ton of reviews out there that adequately describe and explain the greatness and the brilliance that is this book. You should probably go and read those and you'll be set. Because, to be honest, I'm not sure that I'll do this book justice with this review. I'm going to damn well try though. :)
It Ends With Us was nothing that I expected it to be. Honestly I didn't know anything about this book before I started reading it. I knew that a ton of people loved it and I saw the 5 stars that it had been rated, but I didn't actually know what it was about. So I went in blind and I'm all the more grateful for that. I definitely recommend not knowing anything about this book and because of that I won't give too much away. Actually I'm not even posting the synopsis that this book has because I didn't even look at that.
I will tell you that It Ends With Us deals with some difficult topics and does so beautifully. Colleen Hoover did a fantastic job with this book, the characters, the situations and decisions. She created something amazing and she destroyed me at the same time. Kind of in a good way though.
So, yes, there are difficult topics and situations that these characters have to deal with but there are some really awesome moments as well. Just like real life. These characters are so real and I couldn't help but fall in love with all of them. I loved them for their strengths and despite their flaws. Lily was just everything. :)
Then there were the relationships in this book. The friendships that Lily had were some of the best. Her friends were supportive and understanding and so caring. When you read this book you'll see what I mean.
But what I loved the most is also what hurt me most. I loved that we experienced everything when Lily did. We found things out at the same time she did and not a moment sooner. And because of this I was able to feel the same emotions that Lily felt - the love, hurt, betrayal, fear, and grief. It tore me apart by the end but it also helped me understand the decisions that Lily had to make.
Overall, this book exceptional in the fact that it moved me so deeply. I sobbed at certain points and I couldn't stop thinking about the ending after I finished reading. I couldn't think about this book for a few days without tearing up. I had to explain the whole book to my mom because I was so moved by it. Colleen Hoover has always been one of my favorite contemporary and new adult authors. Her books have always been hits for me and each one has impacted me in a different way. But this one was something all together different. It is definitely one of her best novels because it is so honest and heartfelt.
Anyone and everyone should read this book because it is about something that just needs to be shared and known. It is a book that really gets you thinking and feeling. Read this book soon if you haven't because you will not be disappointed!
Vanessa