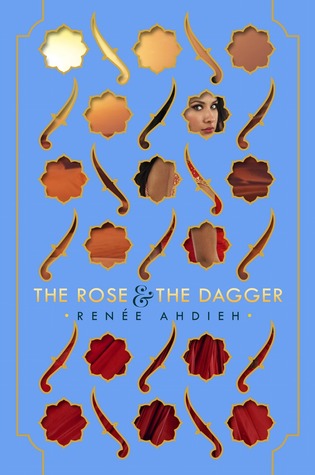 The Rose and the Dagger (The Wrath and the Dawn #2)
By Renee Ahdieh
Published April 24th, 2016 by G.P. Putman's Sons Books for Young Readers
416 pages
5 stars - An emotional and beautifully written story!
Summary from Goodreads.com:
The darker the sky, the brighter the stars.
In a land on the brink of war, Shahrzad is forced from the arms of her beloved husband, the Caliph of Khorasan. She once thought Khalid a monster—a merciless killer of wives, responsible for immeasurable heartache and pain—but as she unraveled his secrets, she found instead an extraordinary man and a love she could not deny. Still, a curse threatens to keep Shazi and Khalid apart forever.
Now she's reunited with her family, who have found refuge in the desert, where a deadly force is gathering against Khalid—a force set on destroying his empire and commanded by Shazi's spurned childhood sweetheart. Trapped between loyalties to those she loves, the only thing Shazi can do is act. Using the burgeoning magic within her as a guide, she strikes out on her own to end both this terrible curse and the brewing war once and for all. But to do it, she must evade enemies of her own to stay alive.
The saga that began with
The Wrath and the Dawn
takes its final turn as Shahrzad risks everything to find her way back to her one true love again.
Review:
Words cannot describe the emotion that I was feeling after reading this beautiful book. The Rose and the Dagger was such a wonderful book to read and was everything that I wanted and more. It was thrilling and beautifully written. I applaud Renee Ahdieh on writing some of my favorite characters for this year. :)
The Rose and the Dagger did not suffer from second book syndrome. It held it's own and it gave just as much as the first one, if not more. We are brought back right where we left off and from the beginning there is never a dull moment. There are old friends and new friends as well as enemies brought to light. There are stories told and fights fought valiantly. But best of all is the love that is shown in various forms.
I absolutely enjoyed reading about the genuine relationships that Ahdieh created. Shazi and Khalid are my absolute favorite of course. I just loved the things that Khalid would say. There are so many quotable passages in this book! His character is one that I will definitely love always. There are a few other relationships in here that I loved as well but I don't want to spoil anything for anyone. Just know that they are amazing and well written as well.
Shazi's stories that I adored in the first book are also present in this one and I couldn't have been more happier. I absolutely love the story telling aspect of this duology and the way it helped to create magical feeling of the book.
I was somewhat nervous that this book wouldn't wrap everything up or that it would end dreadfully. Thankfully I had no need to be nervous because this book was such a great ending to the duology. The ending was so beautiful and the feels were definitely strong. :)
This book was everything that I needed right now and I love the feelings that I experienced and the wisdom I gained from it. Definitely pick this one up soon!
Vanessa