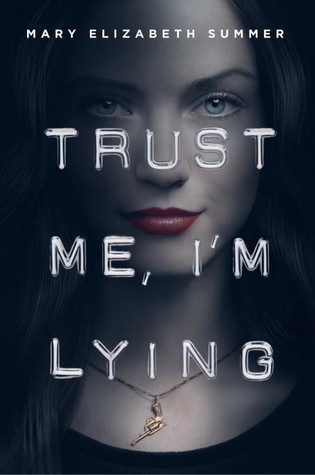 Trust Me, I'm Lying (Trust Me #1)
Published October 14th, 2014 by Delacorte Press
4 stars - Great Read!
Fans of Ally Carter, especially her Heist Society readers, will love this teen mystery/thriller with sarcastic wit, a hint of romance, and Ocean's Eleven–inspired action.
Julep Dupree tells lies. A lot of them. She's a con artist, a master of disguise, and a sophomore at Chicago's swanky St. Agatha High, where her father, an old-school grifter with a weakness for the ponies, sends her to so she can learn to mingle with the upper crust. For extra spending money Julep doesn't rely on her dad—she runs petty scams for her classmates while dodging the dean of students and maintaining an A+ (okay, A-) average.
But when she comes home one day to a ransacked apartment and her father gone, Julep's carefully laid plans for an expenses-paid golden ticket to Yale start to unravel. Even with help from St. Agatha's resident Prince Charming, Tyler Richland, and her loyal hacker sidekick, Sam, Julep struggles to trace her dad's trail of clues through a maze of creepy stalkers, hit attempts, family secrets, and worse, the threat of foster care. With everything she has at stake, Julep's in way over her head . . . but that's not going to stop her from using every trick in the book to find her dad before his mark finds her. Because that would be criminal.
Review:
I haven't read any of Ally Carter's books and I know that I saw Ocean's Eleven, but I can't remember it. And now that I think about it, I can't recall reading any books of this nature. :) That said, I actually enjoyed Trust Me, I'm Lying. For the most part that is. I thought the writing was pretty decent and I enjoyed the characters most of the time but the book did move along slowly at some parts.
I really enjoyed Julep's voice and character. She did quite a lot for someone so young but it seemed realistic at some points, so that is even better. Julep went through a lot throughout the book and I think that she grew a little by the end. I always enjoy character development. :) Then there was Tyler and Sam. Sam seems like such a great and supportive friend. He is extremely smart as well. Tyler is not part of the group in the beginning of the book and I have to admit that I was suspicious of him various times throughout the book. But I really did like him and Julep did as well. Those were the three main characters and all three of them went through some tough times. I still can't believe that ending!
There were twists and turns throughout this book and a very surprising ending, at least for me. Except for a few slow parts and Julep always putting herself in harm's way, I really did enjoy this book. I was hooked from the beginning and I had some major feels at the end. I will definitely be reading the next book when it is released because there was a little cliff hanger near the end. If you haven't read this one yet, then I recommend checking it out! It's a great suspense and mystery novel that I think will become a pretty decent series.
Vanessa