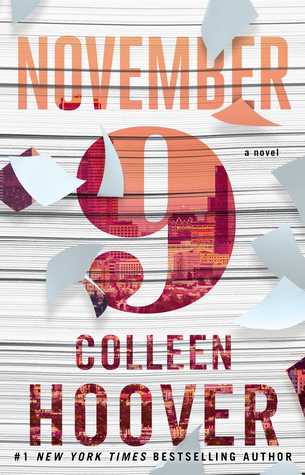 November 9
By Colleen Hoover
Published November 10th, 2015 by Atria Books
320 pages
5 stars - AMAZING!!
Summary from Goodreads:
Beloved #1 New York Times bestselling author Colleen Hoover returns with an unforgettable love story between a writer and his unexpected muse.

Fallon meets Ben, an aspiring novelist, the day before her scheduled cross-country move. Their untimely attraction leads them to spend Fallon's last day in L.A. together, and her eventful life becomes the creative inspiration Ben has always sought for his novel. Over time and amidst the various relationships and tribulations of their own separate lives, they continue to meet on the same date every year. Until one day Fallon becomes unsure if Ben has been telling her the truth or fabricating a perfect reality for the sake of the ultimate plot twist.
Review:
This book has to be one of my top favorites of Colleen Hoover's! I wasn't so sure that I would enjoy it after reading some of the mixed reviews and because I didn't LOVE
Confess.
I was definitely not disappointed though. In my opinion, this was such an amazing book. There were a few times that I became annoyed with the characters but I could not put this book down. I'm pretty sure I read it in one day!
I think that some people might be under the impression that
November 9
takes place in just one day. I'll let you know that is not actually what happens. The two main characters are actually supposed to be meeting on November 9th of every year for a set amount of years. Fallon and Ben meet up and recap on their year apart. I thought that this was such an interesting idea and I really enjoyed watching both characters grow, especially Fallon. I did wish that we could have learned a little bit more about what happened throughout each year but it was a great read regardless.
Fallon and Ben are both awesome characters together. I really loved reading through each of their POVS. Like any other Colleen Hoover character, they had a few secrets that I didn't see coming. Their stories were interesting and heartbreaking as well. I was just so invested in what would happen to both of these characters that I could not stop reading.
I cried, laughed, and sighed in frustration. This book was everything I needed to get me out of the reading slump that I had been in. I've said before that I don't always enjoy contemporary romance. Well, yet again, Colleen Hoover is able to change this for me. I definitely recommend that you give this a try. I know that not all of Hoover's books are for everyone but if you loved
Maybe Someday
and
Ugly Love
, then I think you'll definitely enjoy this one! Check it out soon!
Vanessa