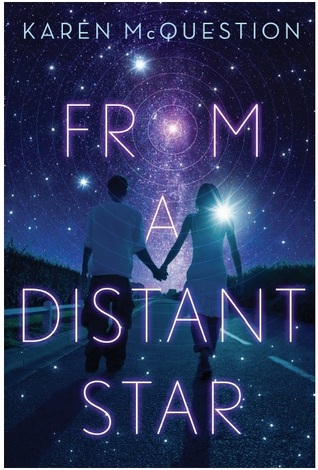 From A Distant Star
Published May 19th, 2015 by Skyscape
3.5 stars - Interesting Read!
*Thank you to Netgalley for a free copy in exchange for honest review!*
Summary from Goodreads.com:
Seventeen-year-old Emma was the only one who hadn't given up on her boyfriend, Lucas. Everyone else—his family, his friends, his doctors—believed that any moment could be his last. So when Lucas miraculously returns from the brink of death, Emma thinks her prayers have been answered.
As the surprised town rejoices, Emma begins to question whether Lucas is the same boy she's always known. When she finds an unidentifiable object on his family's farm—and government agents come to claim it—she begins to suspect that nothing is what it seems. Emma's out-of-this-world discovery may be the key to setting things right, but only if she and Lucas can evade the agents who are after what they have. With all her hopes and dreams on the line, Emma sets out to save the boy she loves. And with a little help from a distant star, she might just have a chance at making those dreams come true.
Review:
Before I say anything about the content of the book, I have to say that the cover is definitely awesome. I love the mix of purples and blues!
So I was really interested in From A Distant Star because the summary sounded really interesting. I haven't read that many alien stories before but I am always interested in them when I do find some. For some reason I thought that it was going to be a little different from what I read, but it was enjoyable read nonetheless.
The novel starts off in the point of view of the family dog and that was definitely an interesting start to the book. After that there are a few good things and not so good things.
I enjoyed reading about Scout's (the alien) planet and his past. His point of view was interesting because he looked at things completely differently that the humans. He was almost childlike in a sense and you can tell from the way his lines are written. Scout's abilities as an alien were also intriguing.
Then there was Emma. Emma was a pretty good character and she had her relate-able moments. She has been watching her boyfriend die and dealing with his family. Then her boyfriend gets better and before she knows it her life is more action packed that she expected. Emma was pretty strong in the fact that she had to outsmart some government agents and do so with an alien at her side. But Emma was also a little too much at times. She was constantly thinking about Lucas and found it hard to understand or relate to Scout. Near the end she got better and was able to care more for Scout and his feelings.
I also thought that the romance part was kind of unbelievable. There were probably only a few romantic scenes but those were memories of Emma's or Lucas'. I didn't mind this and enjoyed that Emma and Scout didn't have to have a romantic relationship. But when Emma would talk about her love for Lucas, it just didn't make sense. She thought that they were really in love and they hadn't even been together for too long.
Despite the romance part, this book was pretty enjoyable. I found myself not able to really put it down. I kept reading because I wanted to know what would happen to the characters. The ending is enjoyable as well and I felt that it really tied things up nicely. A different take on sci-fi that was pretty interesting!
Vanessa