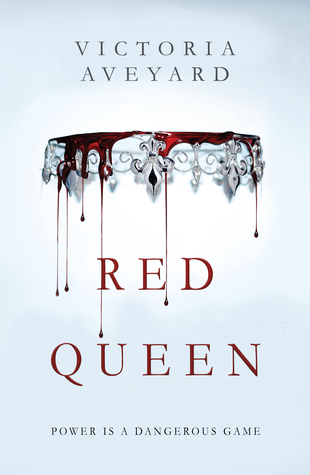 Red Queen (Red Queen #1)By Victoria AveyardPublished February 10th, 2015 by Orion
320 pages
4 stars - Interesting Read!!
The poverty stricken Reds are commoners, living under the rule of the Silvers, elite warriors with god-like powers.
To Mare Barrow, a 17-year-old Red girl from The Stilts, it looks like nothing will ever change.
Mare finds herself working in the Silver Palace, at the centre of
those she hates the most. She quickly discovers that, despite her red blood, she possesses a deadly power of her own. One that threatens to destroy Silver control.
But power is a dangerous game. And in this world divided by blood, who will win?
Review:
Red Queen was an anticipated read for me this year. I absolutely loved and love the cover and it was admittedly a big part of why I wanted to read it. I had seen a few mixed reviews but I was eager to come up with my own thoughts. I didn't go in with too many expectations and I didn't really know what Red Queen would be about before I read it. That being said, I think rated Red Queen somewhere between 3.75 and 4 stars. I just finished the book and I'm trying to get all my thoughts together, but while I did enjoy the book there were still a few things lacking.
It was a little difficult for me to get into the book at the beginning and then I would gain interest and lose it. I'm not sure if this is because I was going through a small book slump while reading but it happened. :( I will say that once I got to the middle of the book I was totally captured and intrigued. The idea for Red Queen is an interesting one.
There are the Reds and the Silvers. The Reds are people with red blood and the people that are ordinary human beings. The Silvers bleed silver and have extraordinary powers that make them superior and powerful compared to the Reds. This means that the Reds live a life of servitude and poor conditions while the Silvers live a life of luxury with rights. Mare Barrow is a Red and believes that her fate is a life at war just like her older brothers before her. She doesn't feel like she has any talent or purpose in her life until one night changes everything. Soon Mare realizes that things aren't always what they seem and anyone can betray anyone. There is a war going on and Mare must choose who to trust because many of the people she loves are counting on it.
Mare was a complex character. I felt for her and the conditions that she had to live through and the shadow that she seemed to live in with her sister. Throughout most of the book Mare always seemed to be upset about her circumstances and was slow to trust anyone around her. Despite her attitude she tried her best to save and protect those close to her. She tried to stand up for what she believed in and put herself in danger for the chance to change things.
The two brothers Cal and Maven were difficult for Mare to trust as well as for me to trust. I wasn't sure who the bad guy was and who the good guy was. I feel like we really didn't get to know too much about Cal and I wish that we could have seen a little more of him. Though, I'm guessing we will learn more in the next book. Maven was another complex character. He seemed to be the younger and weaker brother, the one that was always in his older brother's shadow.
There are more characters that play a big part in the story but I don't want to say too much and spoil anything. There are the characters that you love and appreciated and there are the characters that are very annoying and evil.
The powers that the Silvers had were very cool and I loved reading the scenes where some of them would duel. The ending was the most interesting and suspenseful part of the book and held a shocking twist of events that I didn't see coming. I thought I knew what was going on the whole time but I was wrong and I loved being shocked. I can't wait for the next book because I think that it will be even better than the first. Overall, Red Queen is an intriguing read and one I would definitely recommend you check out for yourself!