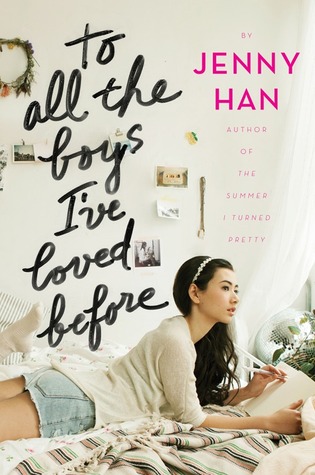 To All the Boys I've Loved Before (To All the Boys I've Loved Before #1)
By Jenny Han
Published April 15th, 2014 by Simon & Schuster Books for Young Readers
355 pages
5 stars - Fantastic Contemporary Read!!
Lara Jean keeps her love letters in a hatbox her mother gave her.
They aren't love letters that anyone else wrote for her, these are ones she's written. One for every boy she's ever loved—five in all. When she writes, she can pour out her heart and soul and say all the things she would never say in real life, because her letters are for her eyes only. Until the day her secret letters are mailed, and suddenly Lara Jean's love life goes from imaginary to out of control.
Review:
Ever since this book came out I've been dying to get my hands on it. The cover totally got my attention as well as the whole idea of it. Lara Jean writes letters to the boys she's loved or loves and they somehow get sent to the boys. Now she has explaining to do.
I absolutely adored this book! I finished it in a day because I couldn't put it down. Lara Jean is witty and quirky and just plain interesting. I loved reading things through her eyes and I found her completely relate-able. Han was able to create characters that you couldn't help but find interesting or even irritating. I found myself looking forward to conversations with Kitty or Peter because the dialogue I never knew what to expect. Kitty is definitely a sister that I wouldn't mind having, haha. :)
This is a contemporary read and quite possibly one of my favorites of the genre. The ending was such a cliff hanger though! I don't want to say too much because I think it's better if you don't know too much. I can't tell you how much I enjoyed this book. I can't wait for the next book because I need to read more about Lara Jean! This isn't one you'll want to miss!
Vanessa