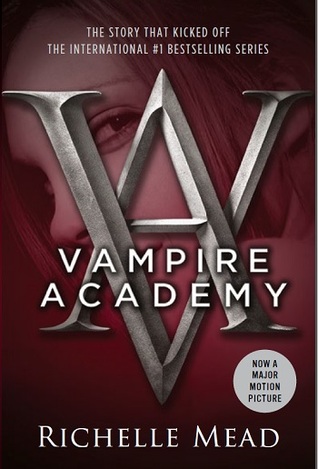 Vampire Academy (Vampire Academy #1)
By Richelle Mead
Published November 2013 by Razorbill
332 pages
4.5 stars - Awesome Start!
The story that kicked off the international #1 bestselling Vampire Academy series is NOW A MAJOR MOTION PICTURE.
St. Vladimir's Academy isn't just any boarding school—it's a hidden place where vampires are educated in the ways of magic and half-human teens train to protect them. Rose Hathaway is a Dhampir, a bodyguard for her best friend Lissa, a Moroi Vampire Princess. They've been on the run, but now they're being dragged back to St. Vladimir's—the very place where they're most in danger. . . .
Rose and Lissa become enmeshed in forbidden romance, the Academy's ruthless social scene, and unspeakable nighttime rituals. But they must be careful lest the Strigoi—the world's fiercest and most dangerous vampires—make Lissa one of them forever.
Review:
Over the years I've seen Vampire Academy on the shelves and I've read good reviews but I never actually read the book. I'm not sure what it was that kept me from reading it in the past but recently it was because I was pretty much done with the vampire thing. I finally gave in to all the good reviews though and read it. I was pleasantly surprised to find that I was not in fact done with vampires, not one bit.
Vampire Academy is just as good as everyone was saying it is. There were a few things that bothered me, mainly with the characters, but overall this was a great start to what I imagine is a pretty great series. I'm already looking forward to reading the second book! It took me a little while to get into it at first because there wasn't too much action in the beginning. But then I started getting curious as to what secret Rose and Lissa were keeping from everyone. I was also trying to figure out who was messing with Lissa and was actually kind of surprised when I found out. I found the background of the Dhampir, Moroi and Strigoi interesting as well.
Rose was a pretty great friend to Lissa throughout everything. I really enjoyed their bond and the fact that they worried about each other no matter what. They were both strong characters in their own way and had quite a bit to deal with. Then there was Dimitri and Christian who were both pretty mysterious and definitely interesting. :) I'm looking forward to reading about their relationship with Rose and Lissa in the next books.
I'm glad that I finally pushed myself to buy this book and give it a try because I was not disappointed! I encourage you to give it a try yourself even if you feel like your totally and completely done with vampires! :)
Vanessa